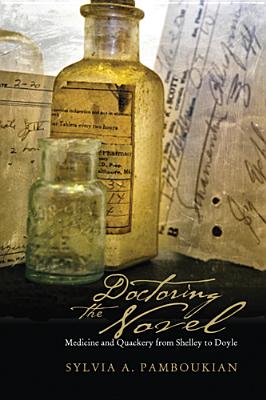 Doctoring the Novel
Medicine and Quackery from Shelley to Doyle
Hardcover

* Individual store prices may vary.
Description
If nineteenth-century Britain witnessed the rise of medical professionalism, it also witnessed rampant quackery. It is tempting to categorize historical practices as either orthodox or quack, but what did these terms really signify in medical and public circles at the time? How did they develop and evolve? What do they tell us about actual medical practices?

Doctoring the Novel explores the ways in which language constructs and stabilizes these slippery terms by examining medical quackery and orthodoxy in works such as Mary Shelley's Frankenstein, Charles Dickens's Bleak House and Little Dorrit, Charlotte Brontë's Villette, Wilkie Collins's Armadale, and Arthur Conan Doyle's Stark Munro Letters. Contextualized in both medical and popular publishing, literary analysis reveals that even supposedly medico-scientific concepts such as orthodoxy and quackery evolve not in elite laboratories and bourgeois medical societies but in the rough-and-tumble of the public sphere, a view that acknowledges the considerable, and often underrated, influence of language on medical practices.
Praise For Doctoring the Novel: Medicine and Quackery from Shelley to Doyle…
"This very perceptive and imaginative study makes a significant contribution to Victorian studies."
— Matthew Ramsey, Vanderbilt University
"…Doctoring the Novel is a valuable and unique contribution to Victorian studies because it bridges the scholarly gap between historical studies of nineteenth-century medicine and literary readings of medicine that focus on medicine as a hegemonic force. The text is also a helpful resource for scholars and students in the medical humanities. Pamboukian not only provides insightful readings of Shelley, Brontë, Dickens, and Doyle through the lens of medical discourse, but she also justifies why such readings are productive."
— Journal of Medical Humanities
"Pamboukian's book is an insightful look into medicine and language that should inspire further inquiry into the literature of the period and, as she suggests in her concluding remarks, medicine today." —
Victoriographies
Ohio University Press, 9780821419908, 224pp.
Publication Date: April 17, 2012
About the Author
Trained in Victorian studies and pharmacy, Sylvia A. Pamboukian is an associate professor in the department of English at Robert Morris University in Pennsylvania. She has published on topics as diverse as Victorian x-rays, Rudyard Kipling's supernatural stories, and taboo in the Harry Potter series.