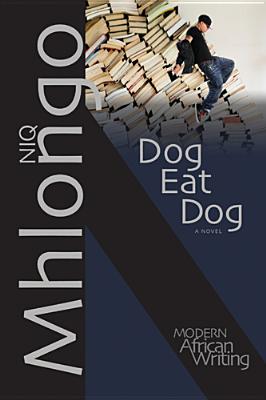 Dog Eat Dog (Paperback)
A Novel (Modern African Writing Series)
Ohio University Press, 9780821419946, 224pp.
Publication Date: June 13, 2012
* Individual store prices may vary.
Description
Dog Eat Dog is a remarkable record of being young in a nation undergoing tremendous turmoil, and provides a glimpse into South Africa's pivotal kwaito (South African hip-hop) generation and life in Soweto. Set in 1994, just as South Africa is making its postapartheid transition, Dog Eat Dog captures the hopes—and crushing disappointments—that characterize such moments in a nation's history.
Raucous and darkly humorous, Dog Eat Dog is narrated by Dingamanzi Makhedama Njomane, a college student in South Africa who spends his days partying, skipping class, and picking up girls. But Dingz, as he is known to his friends, is living in charged times, and his discouraging college life plays out against the backdrop of South Africa's first democratic elections, the spread of AIDS, and financial difficulties that threaten to force him out of school.
About the Author
Niq Mhlongo was born in 1973 in Soweto, South Africa. He is the author of Dog Eat Dog and After Tears, both published by Ohio University Press in its Modern African Writing series. Mhlongo lives in Soweto.
Praise For Dog Eat Dog: A Novel (Modern African Writing Series)…
"Mhlongo describes a searing world that is an 'abject pit of red earth,' an underworld of illegal activity and corruption, but one also suffused with music, from crowd-pleasing choruses in Sesotho to the soulful lyrics of Peter Gabriel, and ultimately, hope. Mhlongo's freshly told novel is the story of a young man determined to never give up trying." —Booklist
"Niq Mhlongo is one of the most high-spirited and irreverent new voices of South Africa's postapartheid literary scene."—Rachel Donadio, New York Times
"Here is a full-throated romp through Soweto and Johannesburg today, with kwaito music blaring, a mélange of African languages floating through the air, and a toxic mix of promise and disappointment infecting everything."—Words without Borders
"Moments of real emotional power intermingled with darkly humorous escapades … a potential trendsetter."—Laura Scott, African Review of Books
"Mhlongo uses his witty, gritty and vibrant style to address issues such as AIDS, xenophobia, poverty and the challenges young people continue to face in the new South Africa." —Ido Lekota, Sowetan
"Here is a full-throated romp through Soweto and Johannesburg today, with kwaito music blaring, a mélange of African languages floating through the air, and a toxic mix of promise and disappointment infecting everything."
— Words without Borders
"Niq Mhlongo is one of the most high-spirited and irreverent new voices of South Africa's postapartheid literary scene."
— Rachel Donadio, New York Times