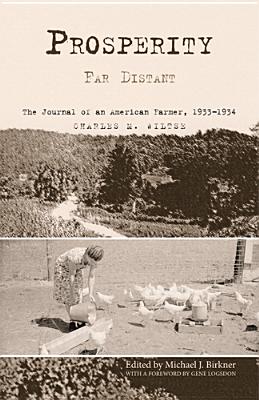 Prosperity Far Distant
The Journal of an American Farmer, 1933-1934
Hardcover

* Individual store prices may vary.
Description
Fresh from receiving a doctorate from Cornell University in 1933, but unable to find work, Charles M. Wiltse joined his parents on the small farm they had recently purchased in southern Ohio. There, the Wiltses scratched out a living selling eggs, corn, and other farm goods at prices that were barely enough to keep the farm intact.

In wry and often affecting prose, Wiltse recorded a year in the life of this quintessentially American place during the Great Depression. He describes the family's daily routine, occasional light moments, and their ongoing frustrations, small and large—from a neighbor's hog that continually broke into the cornfields to the ongoing struggle with their finances. Franklin Roosevelt's New Deal had little to offer small farmers, and despite repeated requests, the family could not secure loans from local banks to help them through the hard economic times. Wiltse spoke the bitter truth when he told his diary, "We are not a lucky family." In this he represented millions of others caught in the maw of a national disaster.

The diary is introduced and edited by Michael J. Birkner, Wiltse's former colleague at the Papers of Daniel Webster Project at Dartmouth College, and coeditor, with Wiltse, of the final volume of Webster's correspondence.
Praise For Prosperity Far Distant: The Journal of an American Farmer, 1933-1934…
"Prosperity Far Distant is a small gem of a book. Charles Wiltse's journal of life on his parents' Ohio farm in 1933 and 1934 describes farming's unrelenting physical toil, the grim fight to stave off ruin, the anger of Depression-era farmers, and the pleasures of rural life. Having just earned a doctorate in history and political philosophy, Wiltse was an unusual farm diarist, and his journal is also the story of a young scholar's quest to make sense of a badly disrupted world."
— David E. Hamilton, University of Kentucky

"One of a kind. A freshly minted but jobless Cornell PhD in political philosophy and history becomes a chicken farmer in Pike County, Ohio, early in the Great Depression. He keeps a journal, mixing standard farm diary entries—on weather, crop progress, prices—with an intellectual's assessment of bureaucracy, the New Deal, class antagonism, and much more. The journal provides a rich source of information for scholars and a compelling narrative for all readers. Editor Michael Birkner adds to the richness with two essays treating the extraordinary postfarming career of the journal's author, Charles Wiltse."
— Jere Daniell, Emeritus Professor of History, Dartmouth College

"Rarely has the Great Depression's effects on ordinary folks been so vividly, meticulously chronicled." 
—The Plain Dealer

"A brief, editorial summary of Wiltse's life and works after he left the farm rounds out this fascinating lens and firsthand testimony of the plight of small farmers in the Great Depression, and the haphazard efforts of the government to help them…. Highly recommended for lay readers and scholars alike…."
— The Midwest Book Review

"You know the story: A young man graduates from college but can't find work. He moves back in with his parents and helps around the house to pay for room and board. He thinks government relief might ease his family's burden in hard times but instead meets frustration at every turn…. The book is Prosperity Far Distant, and the diary covers not 2010-11 but 1933-34. A lot of things changed in the intervening years, but youthful ambition thwarted by an economic meltdown is as central to Wiltse's story as it is common among today's boomerang generation."
— Concord Monitor

"In addition to contributing to the relatively small number of firsthand accounts of northeastern (sic) farming during the Depression, the diary offers a unique perspective from the viewpoint of an extremely educated and articulate observer…. Recommended."
— Choice

"This book is a pleasant surprise…. Wiltse paints a highly articulate and engaging picture of the frustrations of attempting to make a living farming when the agricultural economy was imploding all around…(The) book is a thought-provoking page-turner."
— The Annals of Iowa

"(Prosperity Far Distant) is a Depression-era diary by Charles M. Wiltse. And it is bleak…. Sound like fun? It isn't. Oddly enough, that's the first reason it should go on your autumn reading list. It's a true artifact, an unvarnished 'window into history.' Rarely has the Great Depression's effects on ordinary folks been so vividly, meticulously chronicled."
— The Plain Dealer
Ohio University Press, 9780821419984, 216pp.
Publication Date: August 15, 2012
About the Author
Charles M. Wiltse was a professor of history at Dartmouth College and an editor of the sixteen-volume Papers of Daniel Webster. He was also the author or editor of many other books, including a three-volume collection of the papers of John C. Calhoun and The Jeffersonian Tradition in American Democracy.
Michael J. Birkner is a professor of history and Benjamin Franklin Professor of Liberal Arts at Gettysburg College, where he has taught since 1989. He is the author or editor of twelve books, including the forthcoming James Buchanan and the Coming of the Civil War.