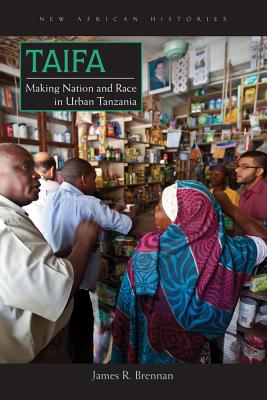 Taifa (Paperback)
Making Nation and Race in Urban Tanzania (New African Histories)
Ohio University Press, 9780821420010, 304pp.
Publication Date: May 29, 2012
* Individual store prices may vary.
Description
Winner of the 2013 Bethwell A. Ogot Book Prize for best book on East African Studies (sponsored by the African Studies Association)
Taifa is a story of African intellectual agency, but it is also an account of how nation and race emerged out of the legal, social, and economic histories in one major city, Dar es Salaam. Nation and race—both translatable as taifa in Swahili—were not simply universal ideas brought to Africa by European colonizers, as previous studies assume. They were instead categories crafted by local African thinkers to make sense of deep inequalities, particularly those between local Africans and Indian immigrants. Taifa shows how nation and race became the key political categories to guide colonial and postcolonial life in this African city.

Using deeply researched archival and oral evidence, Taifa transforms our understanding of urban history and shows how concerns about access to credit and housing became intertwined with changing conceptions of nation and nationhood. Taifa gives equal attention to both Indians and Africans; in doing so, it demonstrates the significance of political and economic connections between coastal East Africa and India during the era of British colonialism, and illustrates how the project of racial nationalism largely severed these connections by the 1970s.
About the Author
James R. Brennan is an assistant professor in history at the University of Illinois at Champaign-Urbana. He is the author of numerous book chapters and journal articles.
Praise For Taifa: Making Nation and Race in Urban Tanzania (New African Histories)…
"TAIFA is James Brennan's compelling meditation on Tanganyikan nationalism seen through the lens of relations between diasporic Indians and indigenous Africans in colonial and early postcolonial Dar es Salaam. Brennan is regarded as one of the most careful researchers of his generation of Tanzania scholars and his book has been long anticipated. It does not disappoint.…TAIFA combines methodologies drawn from social, political, and intellectual history in a manner that is as enriching as it is rare.…A deeply thoughtful and well-argued account of the ways in which race and nation were articulated [in] one of the continent's frequently-cited cases. TAIFA's appeal will not be confined to Tanzania specialists…"—Andrew Ivaska, Journal of African History
"[This book's] theoretical project…is to describe the formation of racial identities as emerging from below rather than constructed from above…Brennan's analysis of the racial identities that emerged during the post-Second World War colonial period is particularly fascinating. …[The final chapter] is first and foremost a masterpiece of discourse analysis. Brennan unearthed a TANU primer defining the new words to be used after the Arusha Declaration, and he uses that and other sources to illustrate how an elaborate vocabulary of socially undesirable people emerged."—African Affairs
"The book is a rich and insightful account of how the racial, ethnic, and socio-economic pluralism of Dar es Salaam was an inherent part of the emergence of a racially conscious TANU-led independence movement.…Its emphasis on the unintended and the contingent, a view that relativizes and reveals as inherently relational the power and incapacities of important actors and organizations, makes this book a work of depth and detail.…Taifa is as any good academic book should be, replete with the kind of answers that breed a new multitude of questions." —Martin Loeng, African Studies Quarterly
"With Taifa, James Brennan establishes himself as not just a major historian of Tanzania, but as an innovative scholar of urban history, racial relations, and colonialism…. The extraordinary range and depth of his research is reflected in every sentence; the book is densely packed with information and insight about colonial and early postcolonial Tanzania. Taifa is a 'must read' for all scholars of Tanzania, including anyone interested in contemporary political debates about 'indigenous' Africans that rely on the very racial logics and legacies that Brennan so deftly explains and explores."—International Journal of African Historical Studies
"Taifa is the first urban history to tackle nationalist politics in towns, an achievement made possible by Brennan's grounding in two separate sets of secondary literature which gives his work a breadth that is rarein today's monographs."—Luise White, author of The Comforts of Home: Prostitution in Colonial Nairobi