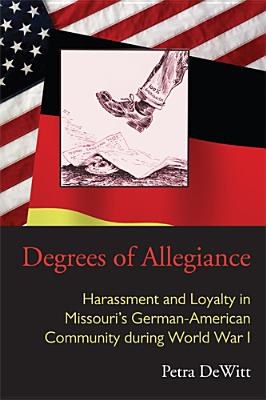 Degrees of Allegiance
Harassment and Loyalty in Missouri's German-American Community during World War I (Law Society & Politics in the Midwest)
Hardcover

* Individual store prices may vary.
Description
Historians have long argued that the Great War eradicated German culture from American soil. Degrees of Allegiance examines the experiences of German-Americans living in Missouri during the First World War, evaluating the personal relationships at the local level that shaped their lives and the way that they were affected by national war effort guidelines. Spared from widespread hate crimes, German-Americans in Missouri did not have the same bleak experiences as other German-Americans in the Midwest or across America. But they were still subject to regular charges of disloyalty, sometimes because of conflicts within the German-American community itself.

Degrees of Allegiance updates traditional thinking about the German-American experience during the Great War, taking into account not just the war years but also the history of German settlement and the war's impact on German-American culture.
Praise For Degrees of Allegiance: Harassment and Loyalty in Missouri's German-American Community during World War I (Law Society & Politics in the Midwest)…
"A very well-researched piece.… The strengths of the book are that it examines the rural and the urban experiences of German-Americans and that it suggests the need for some serious revisions of the scholarly emphasis on the severity of the reaction to German-American citizens during the period."
— Ken Fones-Wolf, West Virginia University

"Degrees of Allegiance is a detailed, sophisticated, and convincing account of how wartime expectations pressured Missouri Germans to relinquish the distinctive parts of their culture and the extent to which they actually did so."
— Missouri Historical Review

"The author makes a convincing case … and departs from the 'victimization' mode so characteristic of so much ethnic history today, and treats the German-American experience with considerable nuance.… The prime audience will of course be people interested in German-American history and Missouri politics of this era, but this is not an insider's account and is written to be accessible also to general readers."
— Walter Kamphoefner, Texas A & M University
Ohio University Press, 9780821420034, 284pp.
Publication Date: March 9, 2012
About the Author
Petra DeWitt teaches at Missouri University of Science and Technology, Rolla, Missouri. She is the author of a number of articles about the German-American community in Missouri.