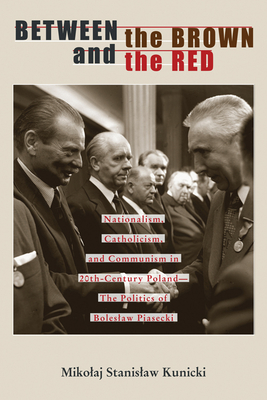 Between the Brown and the Red
Nationalism, Catholicism, and Communism in Twentieth-Century Poland—The Politics of Boleslaw Piasecki (Polish and Polish American Studies)
Hardcover

* Individual store prices may vary.
Other Editions of This Title:
Paperback (9/4/2013)
Description
Between the Brown and the Red captures the multifaceted nature of church-state relations in communist Poland, relations that oscillated between mutual confrontation, accommodation, and dialogue. Ironically, under communism the bond between religion and nation in Poland grew stronger. This happened in spite of the fact that the government deployed nationalist themes in order to portray itself as more Polish than communist. Between the Brown and the Red also introduces one of the most fascinating figures in the history of twentieth-century Poland and the communist world.

In this study of the complex relationships between nationalism, communism, authoritarianism, and religion in twentieth-century Poland, Mikołaj Kunicki shows the ways in which the country's communist rulers tried to adapt communism to local traditions, particularly ethnocentric nationalism and Catholicism. Focusing on the political career of Bolesław Piasecki, a Polish nationalist politician who began his surprising but illuminating journey as a fascist before the Second World War and ended it as a procommunist activist, Kunicki demonstrates that Polish communists reinforced an ethnocentric self-definition of Polishness and—as Piasecki's case demonstrates—thereby prolonged the existence of Poland's nationalist Right.
Praise For Between the Brown and the Red: Nationalism, Catholicism, and Communism in Twentieth-Century Poland—The Politics of Boleslaw Piasecki (Polish and Polish American Studies)…
"Employing excellent archival research and deft writing, Kunicki weaves the complex saga [of Boleslaw Piasecki's career] into an analysis of the relationship between authoritarianism, nationalism, communism, and religion in Poland over the decades to the present postcommunist nation…. Summing Up: Highly recommended."—Choice
"Mikołaj Stanisław Kunicki has written a magnificent politicalbiography of Bolesław Piasecki…. This book will be required reading for any historian of modern Poland and should also appeal to anyone interested in nationalism, communism, the political Right in the twentieth century, the nature of totalitarianism in postwar Eastern Europe, and the persistence of prewar fascist strands in the communist East (hence the book's title)…. This is an extremely well-researched, wellconceptualized, and original work."—American Historical Review
"This is an original, thought provoking, often deliberately provocative book, based on a wealth of archival and published sources. It is, as well, a pleasure to read. Between the Brown and the Red takes its place as one of the best studies of
"Kunicki provides a concise political history of Poland and its significant leaders. Piasecki, while not a major leader, contributed from the very beginnings of Poland's turbulent times with a taste of freedom following World War I up to his death in 1979…. This biography, one of the few in English, will be a welcome addition to Polish American historians."—Polish American Journal
Ohio University Press, 9780821420041, 272pp.
Publication Date: July 4, 2012
About the Author
Mikołaj Stanisław Kunicki is Senior Research Fellow in Modern Polish Studies and Director of the Programme on Modern Poland at St Antony's College, Oxford.