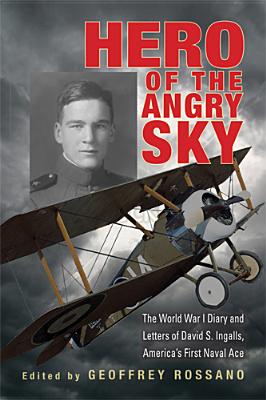 Hero of the Angry Sky (Hardcover)
The World War I Diary and Letters of David S. Ingalls, America's First Naval Ace (War and Society in North America)
Ohio University Press, 9780821420188, 350pp.
Publication Date: January 16, 2013
* Individual store prices may vary.
Description
Hero of the Angry Sky draws on the unpublished diaries, correspondence, informal memoir, and other personal documents of the U.S. Navy's only flying "ace" of World War I to tell his unique story. David S. Ingalls was a prolific writer, and virtually all of his World War I aviation career is covered, from the teenager's early, informal training in Palm Beach, Florida, to his exhilarating and terrifying missions over the Western Front. This edited collection of Ingalls's writing details the career of the U.S. Navy's most successful combat flyer from that conflict.
While Ingalls's wartime experiences are compelling at a personal level, they also illuminate the larger, but still relatively unexplored, realm of early U.S. naval aviation. Ingalls's engaging correspondence offers a rare personal view of the evolution of naval aviation during the war, both at home and abroad. There are no published biographies of navy combat flyers from this period, and just a handful of diaries and letters in print, the last appearing more than twenty years ago. Ingalls's extensive letters and diaries add significantly to historians' store of available material.

About the Author
David S. Ingalls (1899–1985) was the son of railroad magnate Albert S. Ingalls and Jane Taft, niece of President William Howard Taft. Born in Cleveland, Ohio, he began his studies at Yale in 1916, only to leave to join the First Yale Unit, becoming a member of the U.S. Naval Reserve Flying Corps. After the War, he returned to Yale and then received an LLD from Harvard. During his long and illustrious career, he worked as a lawyer, a member of the Ohio House of Representatives, and Assistant Secretary of the Navy (Air) in 1929.
A graduate of Tufts University and the University of North Carolina, Geoffrey L. Rossano is an instructor of history at the Salisbury School in Salisbury, Connecticut. He is the author/editor of The Price of Honor: The World War One Letters of Naval Aviator Kenneth MacLeish; Stalking the U-Boat: U.S. Naval Aviation in Europe during World War I (winner of the 2010 Roosevelt Prize in Naval History); and Built to Serve: Connecticut's National Guard Armories, 1865–1940, as well as numerous articles and papers in the fields of maritime, military, and aviation history. He is also the winner of the 2013 Arthur Radford Award for Excellence in Naval Aviation History and Literature, an award given for a body of work that includes Hero of the Angry Sky.
Praise For Hero of the Angry Sky: The World War I Diary and Letters of David S. Ingalls, America's First Naval Ace (War and Society in North America)…
"Historian Geoffrey L. Rossano…shines a light on the transatlantic experiences of a figure hitherto in the dark, and allows Ingalls' articulate hand and eloquent voice to shine through when describing his service with the RAF…. Such astute editing makes, to be sure, for a gripping first-hand narrative.…This book [is] a must-have for those with a specific interest in war-time diaries and, more generally, for those interested in America's coming of age as a world power. Hero of the Angry Sky is a worthy contribution to the growing historiography of the Great War."—Stand-To!
"Congratulations to Ohio University Press and Geoffrey Rossano for performing the admirable service of editing the diary of the United States Navy's first bona fide 'ace,' David S. Ingalls. Students of history and, especially, of naval aviation will find this a valuable resource and a window into the bygone age at the time of the Great War. Rossano informs Ingalls's own words with valuable commentary and astute editing. Buffs and scholars alike will enjoy the book immensely."—John T. Kuehn, associate professor of military history, U.S. Army Command and General Staff College
"Geoffry Rossano has made a name for himself on the subject of American naval aviation…"—Ohio History
"Rossano possesses an encyclopedic knowledge of the men and machines that the United States Navy deployed to Europe in 1917–1918…. Readers of this brilliantly edited book will come away with valuable insights into the origins of American naval aviation. They will receive a useful corrective to fashionable stereotypes about the Great War." —The Journal of American Culture
"If you are looking for a micro-level, first-person history of U.S. naval aviation in the First World War, or a different perspective on the United States in that war, then read (Hero of the Angry Sky). Rossano's annotations mean that you do not need any "background knowledge" to follow Ingalls's writing. If you already have the MacLeish and Sheely books, then Hero makes an excellent, perhaps even necessary, addition to your collection."—H-War
"(Ingalls) was always happy and expectant; his letters home are full of youthful exuberance and it is hard not to smile while reading his accounts of flying, which he truly loved. Rossano has taken the young man's story well beyond anything yet published while also filling in a lot of missing information on the early activities of American naval aviation."
— The Aviation Historian
"Rossano employs an interesting and effective technique in communicating the fascinating story of Ingalls' brief but exciting combat flying career…. Hero of the Angry Sky is a must for naval aviators, history buffs, and academics interested in our nation's first experience in naval air combat on a large scale."
— Proceedingsmagazine
"Readers of this brilliantly edited book will come away with valuable insights into the origins of American naval aviation."
— The Journal of American Culture