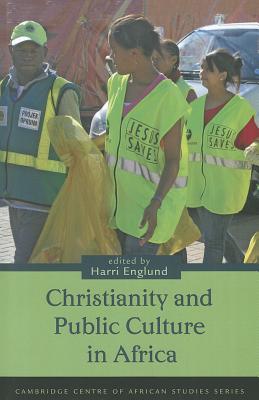 Christianity and Public Culture in Africa (Cambridge Centre of African Studies)
Paperback

* Individual store prices may vary.
Other Editions of This Title:
Hardcover (8/15/2011)
Description
Christianity and Public Culture in Africa takes readers beyond familiar images of religious politicians and populations steeped in spirituality. It shows how critical reason and Christian convictions have combined in surprising ways as African Christians confront issues such as national constitutions, gender relations, and the continuing struggle with HIV/AIDS.

The wide-ranging essays included here explore rural Africa and the continent's major cities, colonial and missionary legacies, and mass media images in the twenty-first century. They also reveal the diversity of Pentecostalism in Africa and highlight the region's remarkable denominational diversity. Scholars and students alike will find these essays timely and impressive.

The contributors demonstrate how the public significance of Christianity varies across time and place. They explore rural Africa and the continent's major cities, and colonial and missionary situations, as well as mass-mediated ideas and images in the twenty-first century. They also reveal the plurality of Pentecostalism in Africa and keep in view the continent's continuing denominational diversity. Studentsand scholars will find these topical studies to be impressive in scope.

Contributors: Barbara M. Cooper, Harri Englund, Marja Hinfelaar, Nicholas Kamau-Goro, Birgit Meyer, Michael Perry Kweku Okyerefo, Damaris Parsitau, Ruth Prince, James A. Pritchett, Ilana van Wyk
Praise For Christianity and Public Culture in Africa (Cambridge Centre of African Studies)…
"(Christianity and Public Culture) is a timely and engaging contribution to an important and growing debate on religion's role in public life, offering a range of fascinating perspectives."—The Journal of Modern African Studies

"With its emphasis on the public and its well-rounded survey of Christian groupsthroughout sub-Saharan Africa, Christianity and Public Culture in Africa serves as a valuable contribution tothe study of religion in Africa. Each of the ten essays provides anethnographically and historically vivid overview of a discrete study, and thestrength of this work rests on how these scholars' research combines to offerreaders new and comprehensive insights into Christianity across sub-SaharanAfrica. Scholars of religion and culture in Africa should consider this workessential reading."—H-Net (H-SAfrica)

"The first myth that (Christianity and Public Culture) scotches is that these churches (African Pentecostal) are all alike. The second myth it debunks is that these churches are under the control of the Americans. The third myth also dispatched is that African Pentecostal churches are politically quietest. Englund's opening chapter is an excellent account of the diversity of Pentecostalism in Africa, highlighting not only denominational diversity but also differing social and public roles."—Journal of Church and State

"In their rich empirical work on the multiple ways in which Christians make religion public, the authors particularly highlight the mediating practices of religions, such as the use of books and radio, and agricultural and reproductive techniques."—Journal of African History

"All in all, this study is a creative and inspiring work that should be read by researchers interested in new directions in the study of African Christianity."—African Studies Quarterly

"(Christianity and Public Culture in Africa) clearly is a valuable resource for everyone with a scholarly interest in Christianity in contemporary Africa."
— International Bulletin of Missionary Research

"This collection advances new ways of thinking about the social and political implications of religion.... The volume will be of significant interest to policymakers and to religious and secular NGOs across the African continent."
— David Maxwell, author of African Gifts of the Spirit: Pentecostalism and the Rise of a Zimbabwean Transnational Religious Movement
Ohio University Press, 9780821420225, 240pp.
Publication Date: August 15, 2011
About the Author
Harri Englund is reader in the Department of Social Anthropology at the University of Cambridge. His most recent book about Africa is Human Rights and African Airwaves: Mediating Equality on the Chichewa Radio.