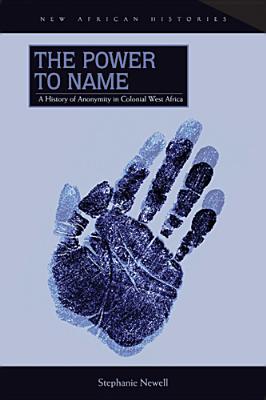 The Power to Name (Paperback)
A History of Anonymity in Colonial West Africa (New African Histories)
Ohio University Press, 9780821420324, 248pp.
Publication Date: July 15, 2013
* Individual store prices may vary.
Description
Finalist for the 2014 Melville J. Herskovits Award from the African Studies Association.
Between the 1880s and the 1940s, the region known as British West Africa became a dynamic zone of literary creativity and textual experimentation. African-owned newspapers offered local writers numerous opportunities to contribute material for publication, and editors repeatedly defined the press as a vehicle to host public debates rather than simply as an organ to disseminate news or editorial ideology. Literate locals responded with great zeal, and in increasing numbers as the twentieth century progressed, they sent in letters, articles, fiction, and poetry for publication in English- and African-language newspapers.

The Power to Name offers a rich cultural history of this phenomenon, examining the wide array of anonymous and pseudonymous writing practices to be found in African-owned newspapers between the 1880s and the 1940s, and the rise of celebrity journalism in the period of anticolonial nationalism. Stephanie Newell has produced an account of colonial West Africa that skillfully shows the ways in which colonized subjects used pseudonyms and anonymity to alter and play with colonial power and constructions of African identity.
About the Author
Stephanie Newell is a professor of English at the University of Sussex, UK, and the author of West African Literature: Ways of Reading, Literary Culture in Colonial Ghana, and Ghanaian Popular Fiction: How to Play the Game of Life.
Praise For The Power to Name: A History of Anonymity in Colonial West Africa (New African Histories)…
"This brilliantly original book opens up new ways of looking at the colonial West African press. The Power to Name reveals the newspapers as sites of creativity and experimentation. Newell shows how West African writers, in a range of emergent genres, tried out far-reaching new conceptions of the public good, political allegiance and personal identity. An engrossing and fascinating read, and a landmark in West African cultural history."—Karin Barber, University of Birmingham
"This is a terrific book, creatively conceived, carefully written, deeply thought, and thoroughly original.… [It reveals] a whole wealth of insight into Africans' agency, into the work that African writers did to criticize colonial government, define a public sphere, and develop new modes of civil discourse."—Derek Peterson, University of Michigan
"Called into existence by the rise of an indigenous newspaper press, African writers employed anonymity and allegory to criticize, slyly and archly, their colonial masters. In most cases we don't even know their real names, but thanks to Stephanie Newell, they are no longer lost to history."—Jonathan Rose, Drew University
"An innovative and truly interdisciplinary study.… In essence, the issue of anonymity in West African newspapers provides an original and useful probe in order to discuss and analyze 'cultural histories of colonial societies.'"—Andreas Eckert, Humboldt University, Berlin
"Newell's important study demonstrates how lesser-known historical West African texts are able to challenge conventional understandings of subject formation in historical periods. The Power to Name also highlights the urgency to recover, preserve, and digitize texts like these that are buried in disparate archives."
—Postcolonial Text