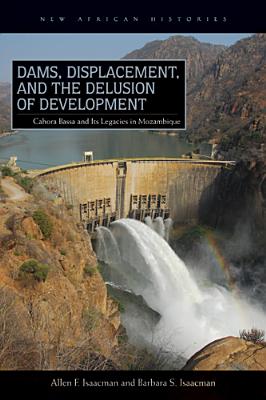 Dams, Displacement, and the Delusion of Development (Paperback)
Cahora Bassa and Its Legacies in Mozambique, 1965–2007 (New African Histories)
Ohio University Press, 9780821420331, 324pp.
Publication Date: April 10, 2013
* Individual store prices may vary.
Description
Winner of the 2014 Martin A. Klein Prize in African History (American Historical Association)
Winner of the African Studies Association's 2014 Melville J. Herskovits Award.
Cahora Bassa Dam on the Zambezi River, built in the early 1970s during the final years of Portuguese rule, was the last major infrastructure project constructed in Africa during the turbulent era of decolonization. Engineers and hydrologists praised the dam for its technical complexity and the skills required to construct what was then the world's fifth-largest mega-dam. Portuguese colonial officials cited benefits they expected from the dam — from expansion of irrigated farming and European settlement, to improved transportation throughout the Zambezi River Valley, to reduced flooding in this area of unpredictable rainfall. "The project, however, actually resulted in cascading layers of human displacement, violence, and environmental destruction. Its electricity benefited few Mozambicans, even after the former guerrillas of FRELIMO (Frente de Libertação de Moçambique) came to power; instead, it fed industrialization in apartheid South Africa." (Richard Roberts)

This in-depth study of the region examines the dominant developmentalist narrative that has surrounded the dam, chronicles the continual violence that has accompanied its existence, and gives voice to previously unheard narratives of forced labor, displacement, and historical and contemporary life in the dam's shadow.
About the Author
Allen F. Isaacman, Regents Professor of History at the University of Minnesota and Extraordinary Professor at the University of Western Cape, is the author of seven books, including Mozambique: The Africanization of a European Institution, The Zambezi Prazos, 1750–1902 (winner of the Melville J. Herskovits Award for the most distinguished publication in African Studies, 1972) and Cotton is the Mother of Poverty: Peasants, Work, and Rural Struggle in Colonial Mozambique 1938–1961 (Herskovits Award finalist, 1997). He has won fellowships from the Guggenheim and MacArthur Foundations, among others.
Barbara S. Isaacman, a retired criminal defense attorney, lived and taught law in Mozambique at the Universidade Eduardo Mondlane as Professor of Law in the late 1970s. She wrote Women, the Law and Agrarian Reform in Mozambique, and co-wrote several monographs on the history of Mozambique.
Praise For Dams, Displacement, and the Delusion of Development: Cahora Bassa and Its Legacies in Mozambique, 1965–2007 (New African Histories)…
"At last a comprehensive, historically deep and ecologically knowledgeable study of a great dam. The Isaacmans brilliantly show how, all along the Zambezi below the Cahora Bassa Dam, whole worlds of riparian life—fish, birds, humans and other mammals—dependent on the annual inundation of the flood plain have been stilled. They recover the voices silenced by the fear and violence deployed by states devoted to the care and feeding of this mega-project. Unparalleled in its sweep, depth and attention to the lived experience of all its victims."—James C. Scott, Yale University, author of Seeing Like a State
"…This book is a passionate and richly documented critique of a disastrous high-modernist scheme, concerned not only to challenge the triumphalist narrative of Cahora Bassa, but equally, to argue against the newest "delusion of development" as Mozambique seeks to build a second dam downstream. It is a welcome addition to the literature on large dam projects in Africa, and opens up rich possibilities of comparison around the continent."—International Journal of African Historical Studies
"What I find most illuminating in this text is the authors'nuanced assessment of oral evidence from interviewswith workers, party officials, and rural residentswho experienced changes in their lives as the damwrought new ecologies. In particular, theyrecognize and describe collected oral texts (mainly livingmemory) as "significant social texts with hidden,multiple, and often contradictory meanings."—James C. McCann, American Historical Review
"Cahora Bassa has always been more than just a hydrological project and Allen and Barbara Isaacman expertly explore how Portugal exerted authority and sought to legitimise their control over the local population…through the construction of a hydroelectric mega scheme…. The Isaacmans provide an excellent and authoritative understanding of the different displacements that have occurred through Cahora Bassa and this book is an important and comprehensive study which will remain a major source for scholars."—The Journal of Modern African Studies
"(Dams, Displacement, and the Delusion of Development) is bound to become a classic in the literature on dams and large-scale development schemes and deserves a wide readership, including beyond academic circles."—Julie Tischler, Humboldt-University in Berlin, Germany