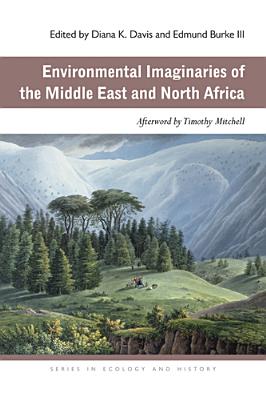 Environmental Imaginaries of the Middle East and North Africa (Ecology & History)
Paperback

* Individual store prices may vary.
Other Editions of This Title:
Hardcover (11/13/2011)
Description
The landscapes of the Middle East have captured our imaginations throughout history. Images of endless golden dunes, camel caravans, isolated desert oases, and rivers lined with palm trees have often framed written and visual representations of the region. Embedded in these portrayals is the common belief that the environment, in most places, has been deforested and desertified by centuries of misuse. It is precisely such orientalist environmental imaginaries, increasingly undermined by contemporary ecological data, that the eleven authors in this volume question. This is the first volume to critically examine culturally constructed views of the environmental history of the Middle East and suggest that they have often benefitted elites at the expense of the ecologies and the peoples of the region. The contributors expose many of the questionable policies and practices born of these environmental imaginaries and related histories that have been utilized in the region since the colonial period. They further reveal how power, in the form of development programs, notions of nationalism, and hydrological maps, for instance, relates to environmental knowledge production.

Contributors: Samer Alatout, Edmund Burke III, Shaul Cohen, Diana K. Davis, Jennifer L. Derr, Leila M. Harris, Alan Mikhail, Timothy Mitchell, Priya Satia, Jeannie Sowers, and George R. Trumbull IV
Praise For Environmental Imaginaries of the Middle East and North Africa (Ecology & History)…
"This well-edited volume can be helpful both for scholars who would like to focus on particular geographic areas of the Middle East and North Africa, and for those interested in a wider view of this region's history. By questioning dichotomies built by 'orientalist' and 'postcolonial' scholars alike, the articles gathered in this volume offer a fresh and unusual perception of the region and its history during the past two hundred years. Taking into account the fact that the environment is always a human one, these questions should be asked not only by environmental historians, but by sociologists, anthropologists, and—even more important—political activists in this region as well. It is essential for understanding what is going on there."—H-Environment

"Environment at the Margins profitably engages the ecocritical idea that authoritative stories and suggestive stories work together as society-wide, discursive wholes."—Journal of Historical Geography

"(T)he collection contributes as much to research on orientalism, imperialism, and nationalism as to environmental studies. Nevertheless, it is the focus on the natural world that keeps the work grounded and takes it into new terrains, literally and metaphorically…. It should serve as a useful corrective to uncritical declensionist accounts of the region still found in world environmental histories."—American Historical Review

"These outstanding essays create new pathways for applying Edward Said's foundational thesis of Orientalism to nature and environment in the Middle East and North Africa over three centuries to the present. Summing Up: Highly recommended."—Choice

"This volume goes far beyond the current work in 'colonial studies' which tends to discuss 'imperial visions and imaginings' without grappling with the much more important issue: how these colonial visions of other peoples and other landscapes were instrumentalizedon the ground in ways that drastically affected real people's daily lives and livelihoods—and the nature of postcolonial states and societies."—Julia Clancy-Smith, author of Mediterraneans: North Africa and Europe in an Age of Migration, c. 1800–1900

"Environment at the Margins profitably engages the ecocritical idea that authoritative stories and suggestive stories work together as society-wide, discursive wholes."
— Journal of Historical Geography
Ohio University Press, 9780821420409, 280pp.
Publication Date: February 15, 2013
About the Author
Diana K. Davis is an associate professor of history at the University of California at Davis. She has published in Environmental History, Geoforum, Cultural Geographies, the Journal of Arid Environments, and Secheresse. She is the author of Resurrecting the Granary of Rome: Environmental History and French Colonial Expansion in North Africa.
Edmund ("Terry") Burke III is a research professor of history at the University of California at Santa Cruz. He is the author of numerous books, including Genealogies of Orientalism: History, Theory, Politics, edited with David Prochaska.