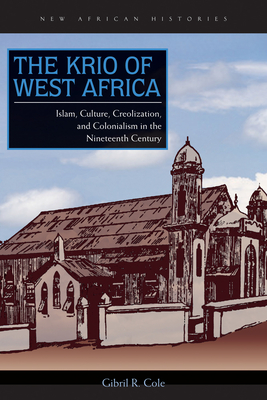 The Krio of West Africa (Paperback)
Islam, Culture, Creolization, and Colonialism in the Nineteenth Century (New African Histories)
Ohio University Press, 9780821420478, 280pp.
Publication Date: September 17, 2013
* Individual store prices may vary.
Description
"The Krio of West Africa: Islam, Culture, Creolization, and Colonialism in the Nineteenth Century, is an engaging history of Sierra Leone that departs from previous scholarship. Taking issue with those who have tended to describe the Krio as essentially a Christian and Westernized 'ethnic group,' [Cole] suggests that the Krio identity, forged in nineteenth-century Freetown, transcended ethnicity, culture, and even religion. Indeed, his study focuses not on Christians, but on the hitherto understudied Muslim Krios, a group he portrays as 'marginalized within the marginalized' …. This informative book fills an important space on the shelves of Sierra Leonean history." —American Historical Review
The Krio are the descendants of freed slaves whose language and culture were partly shaped by their experiences in the West Indies, North America, England, and West Africa. This book looks at the lived experiences of ex-slaves and their progeny who settled Freetown, Sierra Leone; their dispersion in what became a far-flung Krio diaspora in West Africa; and how they sought to make a better life in their new home by engaging in commerce through the use of retrofitted slave ships along the West African Atlantic littoral.

The book thus demonstrates the complex nature of the interactions between the new arrivals (the ex-slaves) and the older populations that began to produce a shared sense of identity beyond the oft-repeated narrative of abolition, admiralty, and the relocation of the trans-Atlantic ex-slave population in West Africa. By focusing on Islam in the making of Krio society in Sierra Leone, this book also helps recontextualize creolization in West Africa and elsewhere.

The book offers a nuanced examination of West African history in the postabolition and colonial periods, including a critical look at the slave trade after 1807, the era of steamboat commerce, and the role of educated West African Krio across diverse transcolonial borders in the late nineteenth and early twentieth centuries. Its exploration of the Islamic presence in precolonial Sierra Leone is a departure from the hitherto restricted scholarly approach to the study of the encounter between Christianity and Islam in the region. Accessible enough to be used as a broad introduction to the history of a West African society for undergraduates, it is also innovative enough, theoretically and empirically, to be of value to scholars.
About the Author
Gibril R. Cole is an associate professor of history at Louisiana State University.
Praise For The Krio of West Africa: Islam, Culture, Creolization, and Colonialism in the Nineteenth Century (New African Histories)…
"The Krio of West Africa is not only a long-overdue and welcome addition to the historical literature on Sierra Leone, but also a breath of fresh air for treating an important subject located in the longue durée of Sierra Leone's past rather than privileging the aberration that much of the country's postcolonial history has been. My prediction is that Cole's monograph will become a benchmark for studying the complex histories of other indigenous ethnic groups of Sierra Leone."—International Journal of African Historical Studies
"Cole's book is an important contribution to the history of Krio and Sierra Leonean society. … It also contributes to our historical knowledge concerning the spread of Islam in West Africa and the Krio Muslims' role in it." —Comparativ
"Cole's long awaited book… is an engaging history of Sierra Leone that departs from previous scholarship. Taking issue with those who have tended to describe the Krio as essentially a Christian and Westernized 'ethnic group,' he suggests that the Krio identity, forged in nineteenth-century Freetown, transcended ethnicity, culture, and even religion. …This informative book fills an important space on the shelves of Sierra Leonean history." —American Historical Review