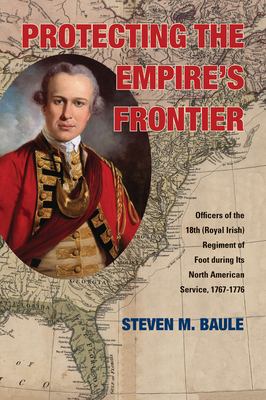 Protecting the Empire's Frontier (Paperback)
Officers of the 18th (Royal Irish) Regiment of Foot during Its North American Service, 1767–1776 (War and Society in North America)
Ohio University Press, 9780821420553, 372pp.
Publication Date: January 15, 2014
* Individual store prices may vary.
Description
Protecting the Empire's Frontier tells stories of the roughly eighty officers who served in the 18th (Royal Irish) Regiment of Foot, which served British interests in America during the crucial period from 1767 through 1776. The Royal Irish was one of the most wide-ranging regiments in America, with companies serving on the Illinois frontier, at Fort Pitt, and in Boston, New York, and Philadelphia, with some companies taken as far afield as Florida, Spanish Louisiana, and present-day Maine. When the regiment was returned to England in 1776, some of the officers remained in America on staff assignments. Others joined provincial regiments, and a few joined the American revolutionary army, taking up arms against their king and former colleagues.

Using a wide range of archival resources previously untapped by scholars, the text goes beyond just these officers' service in the regiment and tells the story of the men who included governors, a college president, land speculators, physicians, and officers in many other British regular and provincial regiments. Included in these ranks were an Irishman who would serve in the U.S. Congress and as an American general at Yorktown; a landed aristocrat who represented Bath as a member of Parliament; and a naval surgeon on the ship transporting Benjamin Franklin to France. This is the history of the American Revolutionary period from a most gripping and everyday perspective.

An epilogue covers the Royal Irish's history after returning to England and its part in defending against both the Franco-Spanish invasion attempt and the Gordon Rioters. With an essay on sources and a complete bibliography, this is a treat for professional and amateur historians alike.
About the Author
Steven M. Baule is currently a K-12 school superintendent, having originally been a history teacher and librarian. He served in the U.S. Army Infantry prior to becoming an educator, and has been recognized as a Fellow by the Company of Military Historians. He previously published British Army Officers Who Served in the American Revolution, 1775 – 1783, a revised and expanded version of W. C. Ford's 1898 text by the same title. He has also published several books on educational leadership and technology.
Praise For Protecting the Empire's Frontier: Officers of the 18th (Royal Irish) Regiment of Foot during Its North American Service, 1767–1776 (War and Society in North America)…
"…Given the many studies of prominent military leaders on both sides, it is surprising that a book exploring the leadership of one British Army regiment could offer such a plethora of new and interesting information.…The book opens many windows onto the lives of military men during the eighteenth century….Protecting the Empire's Frontier is first and foremost a meticulously prepared reference book. …Baule is to be commended for giving his readers so many invaluable insights into the human side of a military organization."—Michigan War Studies Review
"[By] including every officer who served in the regiment during its deployment to America in the 1760s and 1770s, [this] is a rare comprehensive look at the internal management of the organizations that formed the backbone of the British army in America, the infantry regiments. Although focused on the decade before the war began, the book provides a good foundation for understanding the state of the army's officer corps in the early stages of the war….Anyone interested in the human side of military organizations will find this book satisfying."—Don N. Hagist, Journal of the American Revolution
"Based in the most thorough research in primary sources, Protecting the Empire's Frontier brings to life the officers and the service of a typical infantry regiment in America in the years preceding the breach with Britain; it is a significant contribution to the field of study, and will be welcomed by students of the 18th-century Ohio-Illinois country, of late-Colonial America, and of the old British Army."—J. A. Houlding, author of Fit for Service: The Training of the British Army, 1715 – 1795
"Protecting the Empire's Frontier paints an intimate group portrait of the officers of the Royal Irish Regiment, which strove to uphold British authority in a vast, newly conquered territory in the years preceding the American War of In
"A fascinating and well-researched treatment of a little-studied social aspect of military history. Baule's survey of the backgrounds, service histories, and ultimate fates of the men who led the Royal Irish Regiment sheds valuable light on th