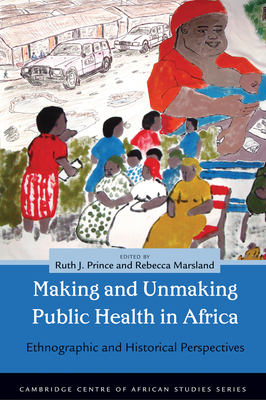 Making and Unmaking Public Health in Africa (Paperback)
Ethnographic and Historical Perspectives (Cambridge Centre of African Studies)
Ohio University Press, 9780821420584, 260pp.
Publication Date: November 26, 2013
Other Editions of This Title:
Hardcover (11/26/2013)
* Individual store prices may vary.
Description
"This volume contributes significantly to the rapidly developing scholarship of public health and global health in African contexts, considered either as a collection of excellent chapters or taken as the sum of its parts…" —Social History of Medicine

This volume explores how medical professionals and patients, government officials, and ordinary citizens approach questions of public health as they navigate contemporary landscapes of NGOs and transnational projects, faltering state services, and expanding privatization. Its contributors analyze the relations between the public and the private providers of public health, from the state to new global biopolitical formations of political institutions, markets, human populations, and health. Tensions and ambiguities animate these complex relationships, suggesting that the question of what public health actually is in Africa cannot be taken for granted. Offering historical and ethnographic analyses, the volume develops an anthropology of public health in Africa.
Contributors: P. Wenzel Geissler; Murray Last; Rebecca Marsland; Lotte Meinert; Benson A. Mulemi;  Ruth J. Prince; and Noemi Tousignant.
About the Author
Ruth Prince is a research fellow in the Department of Social Anthropology at the University of Cambridge and the Institute of Anthropology at the University of Oslo.

Rebecca Marsland is a lecturer in the Department of Social Anthropology at the University of Edinburgh.
Praise For Making and Unmaking Public Health in Africa: Ethnographic and Historical Perspectives (Cambridge Centre of African Studies)…
"The essays are in the very best tradition of medical anthropology: they display intimate political engagement, are genuinely comparative, speak to each other, and…accessibly written. …The volume opens up new vistas on public health, and challenges what we take for granted." —African Affairs
"[The chapters] provide a fascinating range of ethnographically rich and theoretically subtle accounts of and insights into the diverse and often ambiguous practices of 'public health' across Africa. …One of the most impressive things about this volume is its integration and coherence…The result is a landmark publication that I believe will become a key text of enduring value – particularly to scholars and practitioners in the fields of public health, global health, and medical anthropology – but also to a much wider audience within and beyond anthropology." —Kate Hampshire, Journal of the Royal Anthropological Institute
"A powerful and complex picture of what 'public health' is in Africa today as commitments to national health systems are being reshaped through the dramatic rise of 'global health.' This set of ethnographically rich and historically sensitive essays illustrates the forms of inequality that structure efforts to building health care institutions and that configure debates over who is responsible for the health and care of particular individuals. It is a must read for both Africanists interested in medicine and public health professionals who care about Africa."
—Stacey A. Langwick, author of Bodies, Politics, and African Healing: The Matter of Maladies in Tanzania
"Any medical anthropologist who works in Africa will want this book in a nearby library. Those of us who study African biomedicine and biomedical research, whether anthropologists or historians, will find it particularly valuable. . . . As a whole, this excellent collection enlarges the scope of public health and challenges readers to think deeply about who is responsible for African health—and for the many threats to it."
—Claire Wendland, Medical Anthropology Quarterly
"This volume contributes significantly to the rapidly developing scholarship of public health and global health in African contexts, considered either as a collection of excellent chapters or taken as the sum of its parts. … [It] is also book-ended with trenchant, provocative commentaries on the operative theories and current practices of public health in Africa.…Making and Unmaking Public Health in Africa is an ideal fit for teaching the history or anthropology of public health at the undergraduate or graduate level." — Social History of Medicine
"This superb new edited volume is extraordinarily timely and important." —Journal of the Royal Anthropological Institute