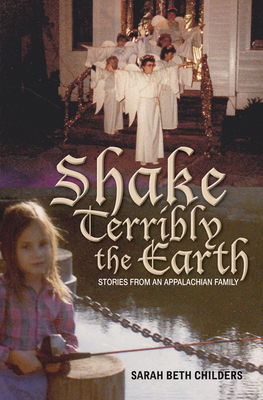 Shake Terribly the Earth
Stories from an Appalachian Family (Race, Ethnicity and Gender in Appalachia)
Hardcover

* Individual store prices may vary.
Other Editions of This Title:
Paperback (11/19/2013)
Description
Sarah Beth Childers grew up listening to stories. She heard them riding to school with her mother, playing Yahtzee in her Granny's nicotine cloud, walking to the bowling alley with her grandfather, and eating casseroles at the family reunions she attended every year.

In a thoughtful, humorous voice born of Appalachian storytelling, Childers brings to life in these essays events that affected the entire region: large families that squeezed into tiny apartments during the Great Depression, a girl who stepped into a rowboat from a second-story window during Huntington's 1937 flood, brothers who were whisked away to World War II and Vietnam, and a young man who returned home from the South Pacific and worked his life away as a railroad engineer.

Childers uses these family tales to make sense of her personal journey and find the joy and clarity that often emerge after the earth shakes terribly beneath us.
Praise For Shake Terribly the Earth: Stories from an Appalachian Family (Race, Ethnicity and Gender in Appalachia)…
"Wonderfully rich and beautifully written … the collection is also self-aware and articulate about storytelling as an art and as a profoundly human means of creating meaning. Storytelling is furthermore a powerful folkway in Appalachian life, and one of the main themes of the book.… It is a deeply worthwhile and fascinating collection."
—Meredith Sue Willis, author of Out of the Mountains

"Shake Terribly the Earth announces a new, clear voice in Appalachian nonfiction, free of cant, free of even the rumor of a stereotype. Sarah Beth Childers's family saga engages the griefs of the region in many ways—times have been difficult in her native West Virginia—but a thread of joyfulness, like light, winds through these essays, as stories accumulated by generations at last find voice in Childers's telling. It is a pleasure, rare and true, to sit with this book and listen."
—Kevin Oderman, author of White Vespa and How Things Fit Together

"The West Virginia childhood that Sarah Beth Childers gives us in Shake Terribly the Earth is hardscrabble, pietistic, and loving. Disability checks, pizza, and Mountain Dew along with the Holy Spirit inflect this clear-eyed and moving portrait of a young woman's coming of age in one deep corner of the American Landscape."
—Peter Balakian, author of Black Dog of Fate

"This is a book to rattle us awake and stir in our blood forgotten memories of family and faith, of fire and flood. Shake Terribly the Earth introduces us to a young writer mightily engaged with the world before her. There is wisdom in these pages. Music bellows from the words."
—Glenn Taylor, author of The Ballad of Trenchmouth Taggart and The Marrowbone Marble Company

"Childers's collection of carefully arranged family vignettes reveals a master storyteller sharing the tales of her yarn-spinning clan over the generations."—"Around Cincinnati," WVXU-NPR

"Beautifully written, nostalgic, and indeed unique, this work will be welcomed by those who enjoy memoir or American regional history and by anyone interested in Appalachian culture."—Library Journal
Ohio University Press, 9780821420614, 224pp.
Publication Date: November 19, 2013
About the Author
Sarah Beth Childers is a lecturer in English at West Virginia University. She has also served as a visiting professor of creative nonfiction at West Virginia Wesleyan College.