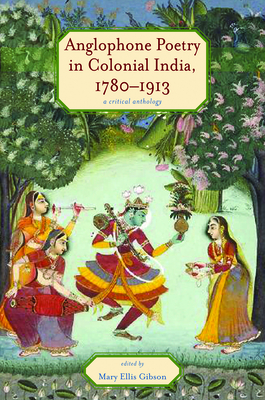 Anglophone Poetry in Colonial India, 1780–1913
A Critical Anthology (Series in Victorian Studies)
Paperback

* Individual store prices may vary.
Other Editions of This Title:
Hardcover (7/15/2011)
Description
Anglophone Poetry in Colonial India, 1780–1913: A Critical Anthology makes accessible for the first time the entire range of poems written in English on the subcontinent from their beginnings in 1780 to the watershed moment in 1913 when Rabindranath Tagore won the Nobel Prize in Literature.Mary Ellis Gibson establishes accurate texts for such well-known poets as Toru Dutt and the early nineteenth-century poet Kasiprasad Ghosh. The anthology brings together poets who were in fact colleagues, competitors, and influences on each other. The historical scope of the anthology, beginning with the famous Orientalist Sir William Jones and the anonymous "Anna Maria" and ending with Indian poets publishing in fin-de-siècle London, will enable teachers and students to understand what brought Kipling early fame and why at the same time Tagore's Gitanjali became a global phenomenon. Anglophone Poetry in Colonial India, 1780–1913 puts all parties to the poetic conversation back together and makes their work accessible to American audiences.With accurate and reliable texts, detailed notes on vocabulary, historical and cultural references, and biographical introductions to more than thirty poets, this collection significantly reshapes the understanding of English language literary culture in India. It allows scholars to experience the diversity of poetic forms created in this period and to understand the complex religious, cultural, political, and gendered divides that shaped them.
Praise For Anglophone Poetry in Colonial India, 1780–1913: A Critical Anthology (Series in Victorian Studies)…
"Competing notions of national character, both English and Indian, populate Mary Ellis Gibson's new anthology, Anglophone Poetry in Colonial India, 1780–1913 … which traces the contours of English language poetry across the subcontinent over the course of the long nineteenth century.… Gibson includes many poems sure to provoke fascinating discussion."—Victorian Poetry
"Both of Gibson's books (Indian Angles and Anglophone Poetry in Colonial India) stand as shining examples of the strategic comparativist work needed to assess the full array of literary voices in/on India during the long nineteenth century." —English Literature in Transition, 1880–1920
"The contradictions and connections Gibson reads in the writings of British, Indian, and mixed-race poets from Sir William Jones to Rabindranath Tagore, are on full display in her companion piece anthology of Anglophone poetry, which will introduce many readers to the exciting work of over thirty poets, including those long lost in the liminal space between the British canon and the Indian nationalist canon: lower-class British men and women in India, and mixed-race writers."—Studies in English Literature, 1500–1900
Ohio University Press, 9780821420782, 416pp.
Publication Date: September 15, 2013
About the Author
Mary Ellis Gibson is Professor of English at the University of Glasgow and Elizabeth Rosenthal Professor of English Emerita at University of North Carolina Greensboro. Her books include Indian Angles: English Verse in Colonial India from Jones to Tagore (Ohio, 2011); History and the Prism of Art: Browning's Poetic Experiments; and Epic Reinvented: Ezra Pound and the Victorians. She has also edited several other anthologies, including New Stories by Southern Women; Homeplaces: Stories of the South by Women Writers; and Critical Essays on Robert Browning.