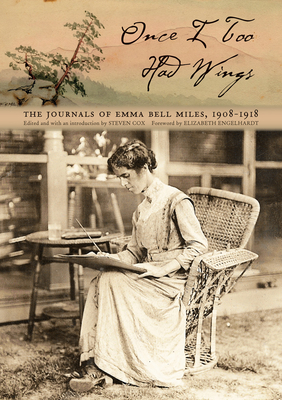 Once I Too Had Wings
The Journals of Emma Bell Miles, 1908–1918 (Race, Ethnicity and Gender in Appalachia)
Paperback

* Individual store prices may vary.
Other Editions of This Title:
Hardcover (3/11/2014)
Description
Emma Bell Miles (1879–1919) was a gifted writer, poet, naturalist, and artist with a keen perspective on Appalachian life and culture. She and her husband Frank lived on Walden's Ridge in southeast Tennessee, where they struggled to raise a family in the difficult mountain environment. Between 1908 and 1918, Miles kept a series of journals in which she recorded in beautiful and haunting prose the natural wonders and local customs of Walden's Ridge. Jobs were scarce, however, and as the family's financial situation deteriorated, Miles began to sell literary works and paintings to make ends meet. Her short stories appeared in national magazines such as Harper's Monthly and Lippincott's, and in 1905 she published Spirit of the Mountains, a nonfiction book about southern Appalachia. After the death of her three-year-old son from scarlet fever in 1913, the journals took a more somber turn as Miles documented the difficulties of mountain life, the plight of women in rural communities, the effect of disparities of class and wealth, and her own struggle with tuberculosis.
Previously examined only by a handful of scholars, the journals contain both poignant and incisive accounts of nature and a woman's perspective on love and marriage, death customs, child raising, medical care, and subsistence on the land in southern Appalachia in the early twentieth century. With a foreword by Elizabeth S. D. Engelhardt, this edited selection of Emma Bell Miles's journals is illustrated with examples of her painting.
Praise For Once I Too Had Wings: The Journals of Emma Bell Miles, 1908–1918 (Race, Ethnicity and Gender in Appalachia)…
"A crucial, rare, and enlightening resource. This work has the potential to deepen our understanding of the challenges and rewards of Appalachian women writing."—Elizabeth S. D. Engelhardt

"These writings, expertly collected by Cox, delve into Mile's life and observations on her family's challenging economic circumstances, her son's death from scarlet fever, and her own fight against tuberculosis, all transcribed in her trademark evocative prose."—Appalachian Heritage

"The triumphs and trials of writer-artist Emma Bell Miles will resonate with modern readers. Steven Cox's balanced introduction and careful editing of Miles's journals (1908–1918) provide context for a take on Appalachian life that was at once sympathetic and unromantic, prescient yet still elusive. Sadly the short life the Journal records also reveals the price of a deep ambivalence for tradition and modernity in an era eerily similar to our own."—Mark T. Banker, author of Appalachians All

"Reading Miles's journals thirty-six years ago in the Oklahoma home of daughter Judith Miles Ford, I felt then the world must see her poignant observations of the natural and cultural environment of her Appalachia. Steven Cox's choices from Miles's personal writings reveal powerful insights of a woman who lived, loved, absorbed, and recorded her place more than 100 years past."—Grace Toney Edwards, Professor Emeritus of Appalachian Studies and English, Radford University
Ohio University Press, 9780821420874, 352pp.
Publication Date: March 11, 2014
About the Author
Emma Bell Miles (1879 –1919) was a gifted writer, poet, naturalist, and artist with a keen perspective on Appalachian life and culture. She chronicled her home region through her prolific journals, illustrations, essays, poetry, and fiction.
Steven Cox is the head of special collections and archives in the Lupton Library at the University of Tennessee at Chattanooga.