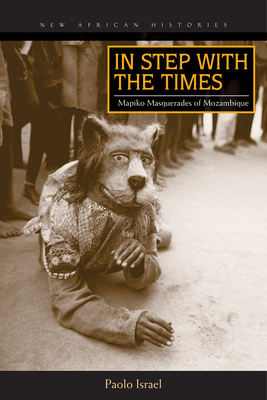 In Step with the Times (Paperback)
Mapiko Masquerades of Mozambique (New African Histories)
Ohio University Press, 9780821420881, 296pp.
Publication Date: June 1, 2014
* Individual store prices may vary.
Description
The helmet-shaped mapiko masks of Mozam­bique have garnered admiration from African art scholars and collectors alike, due to their striking aesthetics and their grotesque allure. This book restores to mapiko its historic and artistic context, charting in detail the transformations of this masquerading tradition throughout the twentieth century.

Based on field research spanning seven years, this study shows how mapiko has undergone continuous reinvention by visionary individuals, has diversified into genres with broad generational appeal, and has enacted historical events and political engagements. This dense history of creativity and change has been sustained by a culture of competition deeply ingrained within the logic of ritual itself. The desire to outshine rivals on the dance ground drives performers to search for the new, the astonishing, and the topical. It is this spirit of rivalry and one-upmanship that keeps mapiko attuned to the times that it traverses.

In Step with the Times is illustrated with vibrant photographs of mapiko masks and performances. It marks the most radical attempt to date to historicize an African performative tradition.
About the Author
Paolo Israel is a senior lecturer in history at the University of the Western Cape, South Africa. He has written extensively about Mozambican expressive cultures, political ethnicity, and witchcraft.
Praise For In Step with the Times: Mapiko Masquerades of Mozambique (New African Histories)…
"[This is] a study
 in great depth of the historiography of older mapiko masquerading in Mozambique, and an intricately woven social history of twentieth-century Makonde masking forms. … Israel brings to light a wealth of detail on the ways in which masking has changed over time and in a variety of social and historical circumstances. … An important contribution to the literature on African masquerades and performance."—African Arts
"The book reconstructs a history that has gone largely unwritten, achieving a panoramic vision of the simultaneously embedded and independent trajectory of mapiko…It is destined to become a classic for its unparalleled assembly of rich and detailed ethnographic data … Israel's analysis opens lines of sight onto how longstanding dynamics of social interaction in southeast and east-central Africa…adapted to and helped shape the path of colonial rule in northern Mozambique. This is important and exciting history."—American Historical Review
"All readers will be mesmerised by Israel's attention to detail, ability to flesh out the mood of each period under study, and explanation of how the Makonde represented that mood and what was going on in their daily lives through the characters they brought to life through mapiko."—Kronos
"…Both innovative and liberating…Israel has produced a remarkably well-written, thoroughly researched, and fantastically valuable book vividly detailing ongoing transmogrifications of the persistent cultural tradition(s) of mapiko. …The book deserves a much wider readership than those interested in performance, political history, and memory in sub-Saharan Africa." —Canadian Journal of History
"In this beautifully crafted analysis of mapiko performances, Paolo Israel interweaves the history of Mozambique with close readings of hundreds of song lyrics and detailed microhistories of events and individuals that gave rise to this performance tradition. … Those interested in how and why performance matters will find much of value in this superb text and accompanying video and audio materials on the companion website."—Journal of African History