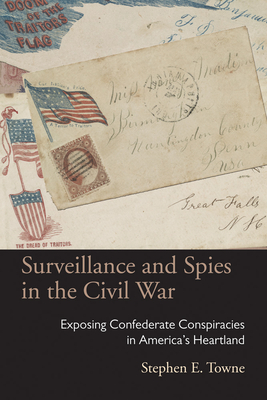 Surveillance and Spies in the Civil War (Paperback)
Exposing Confederate Conspiracies in America's Heartland (Law Society & Politics in the Midwest)
Ohio University Press, 9780821421031, 488pp.
Publication Date: December 15, 2014
Other Editions of This Title:
Hardcover (12/15/2014)
* Individual store prices may vary.
Description
A History Book Club Reading Selection
Surveillance and Spies in the Civil War represents pathbreaking research on the rise of U.S. Army intelligence operations in the Midwest during the American Civil War and counters long-standing assumptions about Northern politics and society. At the beginning of the rebellion, state governors in Ohio, Indiana, and Illinois cooperated with federal law enforcement officials in various attempts—all failed—to investigate reports of secret groups and individuals who opposed the Union war effort.

Starting in 1862, army commanders took it upon themselves to initiate investigations of antiwar sentiment in those states. By 1863, several of them had established intelligence operations staffed by hired civilian detectives and by soldiers detailed from their units to chase down deserters and draft dodgers, to maintain surveillance on suspected persons and groups, and to investigate organized resistance to the draft. By 1864, these spies had infiltrated secret organizations that, sometimes in collaboration with Confederate rebels, aimed to subvert the war effort.

Stephen E. Towne is the first to thoroughly explore the role and impact of Union spies against Confederate plots in the North. This new analysis invites historians to delve more deeply into the fabric of the Northern wartime experience and reinterpret the period based on broader archival evidence.
About the Author
Stephen E. Towne is an associate university archivist at Indiana University–Purdue University Indianapolis. He is the editor of A Fierce, Wild Joy: The Civil War Letters of Colonel Edward J. Wood, 48th Indiana Volunteer Infantry Regiment.
Praise For Surveillance and Spies in the Civil War: Exposing Confederate Conspiracies in America's Heartland (Law Society & Politics in the Midwest)…
"Built on impressive research, Stephen Towne's Surveillance and Spies in the Civil War reveals the very real danger posed by pro-Confederate Copperheads and other disloyal secret societies in the Old Northwest during the Civil War. In a fascinating and in-depth look at antiwar subversion in the Midwest, he painstakingly illustrates how the government, specifically the U.S. Army, monitored treasonous activities and prevented outbreaks of violence aimed at subverting the Union war effort and sowing political dissent against the Lincoln administration. Towne's study convincingly argues that Copperheads and other subversive factions were not merely impotent fringe groups but truly dangerous provocateurs whose threat to Northern internal security was more real than imagined."—William B. Feis, coauthor of For the Common Defense: A Military History of the United States from 1607 to 2012
"Towne … has done extensive research in the National Archives, as well as in local archives, in order to shine a welcome light on a previously little-known, still imperfectly understood set of events. The book is dense with detail and evidence but generally accessibly written. The endnotes are a veritable treasure trove of citations and thoughtful reflection on the often fascinating and previously obscure sources."—American Historical Review
"Towne has produced a well-researched monograph that provides a much-needed reexaminationof military intelligence during the Civil War in Ohio, Indiana, and Illinois…. Surveillance andSpies in the Civil War makes a significant contribution to home-front, political, and militaryhistoriography and is therefore a valuable source for both nineteenth-century historians andstudents in graduate-level courses."—Ohio History
"Stephen E. Towne's impressively researched study on Union army intelligence activities in the old Northwest—Ohio, Indiana, Illinois, and Michigan—has one principal aim: to rescue anti-Lincoln conspiracies in the North from the historiographical grasp of Frank L. Klement, who dismissed them as 'excursion[s] into the world of make-believe.' … Any historian conducting research on law, civil-military relations, and the rights of citizens during wartime will want to pay careful attention to Towne's work."—Journal of Southern History
"Towne's narrative is a fascinating whodunit, with its vivid portrayal of Union commanders hiring questionable detectives in an effort to stymie the Knights of the Golden Circle, a loose collection of Confederate sympathizers in the Old Northwest. A valuable addition to any library seeking to upgrade its collection with a regional slant to the US Civil War. Summing Up: Highly recommended."—CHOICE
or
Not Currently Available for Direct Purchase