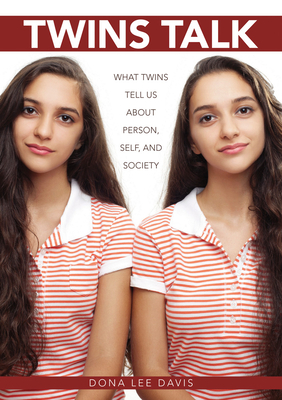 Twins Talk
What Twins Tell Us about Person, Self, and Society
Paperback

* Individual store prices may vary.
Other Editions of This Title:
Hardcover (1/1/2015)
Description
Twins Talk is an ethnographic study of identical twins in the United States, a study unique in that it considers what twins have to say about themselves, instead of what researchers have written about them. It presents, in the first person, the grounded and practical experiences of twins as they engage, both individually and together, the "who am I" and "who are we" questions of life. Here, the twins themselves are the stars.
Dona Lee Davis conducted conversational interviews with twenty-two sets of identical twins attending the Twins Days Festival in Twinsburg, Ohio, the largest such gathering in the world. Lively and often opinionated, each twin comes through as a whole person who at the same time maintains a special bond that the vast majority of people will never experience.
The study provides a distinctive and enlightening insider's challenge to the nature/nurture debates that dominate contemporary research on twins. The author, herself an identical twin, draws on aspects of her own life to inform her analysis of the data throughout the text. Each chapter addresses a different theme from multiple viewpoints, including those of popular science writers, scientific researchers, and singletons, as well as those of the twins themselves.
Praise For Twins Talk: What Twins Tell Us about Person, Self, and Society…
"Twins as well as students of anthropology, sociology, and psychology will enjoy this study that differs from others in its blend of personal experiences and scholarship."—Henrietta Verma, Library Journal

"Davis's affective, autoethnographic proximity to her interviewees is at once an engaging and revealing feature of this book. … Twins Talk is an invaluable record of a particularly voluble minority of festival-going twins who are willing, eager, and capable of presenting themselves as talking twins, sympathetic to their biographies being raised to anthropological significance."—American Anthropologist

"Twins Talk … is a valuable and much needed contribution to scholarly work on twins. It suggests intriguing new directions for anthropological research on a topic that has been predominantly explored from biomedical and psychological perspectives. … With this book, Davis gives a compelling demonstration of the value of studying twins as twins, and shows that twins' life stories—not just their genomes—are rich with meaning and worthy of analysis."—Medical Anthropology Quarterly

"Dona Lee Davis adds the perspective of identical twins to the domain of 'twins research,' which is mostly research on twins. In her book, she presents the voices of twins, with their always interesting, often entertaining, and at times upsetting stories, views, and accounts of their lives alone and with each other."—Barbara Prainsack, professor of sociology, King's College, London, and coeditor of Genetics as Social Practice: Transdisciplinary Views on Science and Culture

"Dona Lee Davis, an established anthropologist and identical twin, offers an insightful critical and cultural analysis of twin research and twinship while highlighting what twins tell us about our 'selves.' Most importantly the voices of twins are heard loud and clear."—Elizabeth Stewart, author of Exploring Twins: Towards a Social Analysis of Twinship
Ohio University Press, 9780821421123, 312pp.
Publication Date: January 1, 2015
About the Author
Dona Lee Davis earned her PhD in anthropology from the University of North Carolina at Chapel Hill. She is currently a professor of anthropology at the University of South Dakota. Her research interests include medical and psychological anthropology, gender studies, research methods, North Atlantic fishing communities, and multispecies ethnography.