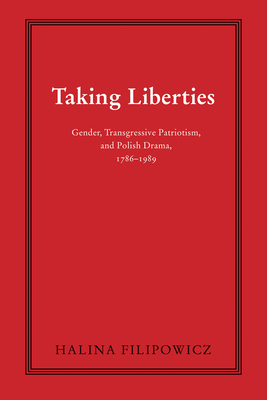 Taking Liberties (Paperback)
Gender, Transgressive Patriotism, and Polish Drama, 1786–1989 (Polish and Polish American Studies)
Ohio University Press, 9780821421147, 376pp.
Publication Date: January 1, 2015
Other Editions of This Title:
Hardcover (1/1/2015)
* Individual store prices may vary.
Description
As narrow, nationalist views of patriotic allegiance have become widespread and are routinely invoked to justify everything from flag-waving triumphalism to xenophobic bigotry, the concept of a nonnationalist patriotism has vanished from public conversation. Taking Liberties is a study of what may be called patriotism without borders: a nonnational form of loyalty compatible with the universal principles and practices of democracy and human rights, respectful of ethnic and cultural diversity, and, overall, open-minded and inclusive.

Moving beyond a traditional study of Polish dramatic literature, Halina Filipowicz turns to the plays themselves and to archival materials, ranging from parliamentary speeches to polemical pamphlets and verse broadsides, to explore the cultural phenomenon of transgressive patriotism and its implications for society in the twenty-first century.

In addition to recovering lost or forgotten materials, the author builds an innovative conceptual and methodological framework to make sense of those materials. The result is not only a significant contribution to the debate over the meaning and practice of patriotism, but a masterful intellectual history.
About the Author
Halina Filipowicz is a professor of Polish literature at the University of Wisconsin–Madison and holds an affiliate appointment in the Department of Gender and Women's Studies. She is the author of A Laboratory of Impure Forms: The Plays of Tadeusz Różewicz and coeditor of The Great Tradition and Its Legacy: The Evolution of Dramatic and Musical Theater in Austria and Central Europe.
Praise For Taking Liberties: Gender, Transgressive Patriotism, and Polish Drama, 1786–1989 (Polish and Polish American Studies)…
"Current debates [over nationalism and patriotism] make Halina Filipowicz's new monograph all the more timely. This deeply engrossing work … demonstrates Filipowicz's broad knowledge of Polish culture and her outstanding ability to tell a good story. The book provides a history of political theater in Poland, a history of political discourse at key moments in Polish history, and insight into the world of Polish thought for the last two hundred and thirty years … [It will be] a great resource for scholars and students of Polish thought from the Enlightenment forward." —Slavic and East European Journal
"[In this] compelling, extremely well-researched work, Filipowicz offers a fresh perspective on Polish drama, shedding light on some lesser known works and encouraging a reevaluation of Poland's canonical literature and how its various national, historical myths have been structured to shape a collective identity. Her readings point to the 'counteractive patterns of culture,' the complicated, paradoxical, and discursively rich alternative stories that are smoothed over, manipulated, if not outright silenced, in the creation of a single paradigm of patriotism."—Cosmopolitan Review
"Filipowicz combines historical breadth, detailed research, and complex critical and theoretical lenses with startling results. … [Her] use of feminist and gender theory to interpret both the historical subjects and their translation into dramatic form provides an essential and insightful filter to the sheer volume of archival material she has uncovered. It also proves highly generative to her high-risk project of moving beyond the canon of Polish drama and established categories of Polish theater history."—The Slavic Review
"Filipowicz's focus on the theme of patriotism and its 'transgressive' expression in drama allows her to examine an issue that is still current today—and not only in Poland—that is, who gets to be included in the groups we might call 'us' and those we regard as 'others.'"—The Polish Review