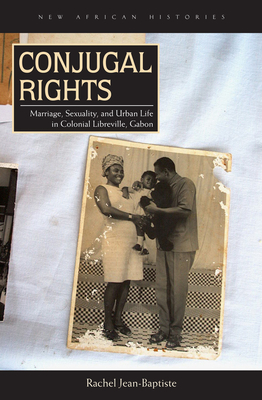 Conjugal Rights
Marriage, Sexuality, and Urban Life in Colonial Libreville, Gabon (New African Histories)
Paperback

* Individual store prices may vary.
Other Editions of This Title:
Hardcover (8/15/2014)
Description
Finalist for the 2015 Aidoo-Snyder Book Prize for outstanding book on African women's experiences
Conjugal Rights is a history of the role of marriage and other arrangements between men and women in Libreville, Gabon, during the French colonial era, from the mid–nineteenth century through 1960. Conventional historiography has depicted women as few in number and of limited influence in African colonial towns, but this book demonstrates that a sexual economy of emotional, social, legal, and physical relationships between men and women indelibly shaped urban life.

Bridewealth became a motor of African economic activity, as men and women promised, earned, borrowed, transferred, and absconded with money to facilitate interpersonal relationships. Colonial rule increased the fluidity of customary marriage law, as chiefs and colonial civil servants presided over multiple courts, and city residents strategically chose the legal arena in which to arbitrate a conjugal-sexual conflict. Sexual and domestic relationships with European men allowed some African women to achieve a greater degree of economic and social mobility. An eventual decline of marriage rates resulted in new sexual mores, as women and men sought to rebalance the roles of pleasure, respectability, and legality in having sex outside of kin-sanctioned marriage.

Rachel Jean-Baptiste expands the discourse on sexuality in Africa and challenges conventional understandings of urban history beyond the study of the built environment. Marriage and sexual relations determined how people defined themselves as urbanites and shaped the shifting physical landscape of Libreville. Conjugal Rights takes a fresh look at questions of the historical construction of race and ethnicity. Despite the efforts of the French colonial government and society to enforce boundaries between black and white, interracial sexual and domestic relationships persisted. Black and métisse women gained economic and social capital from these relationships, allowing some measure of freedom in the colonial capital city.
Praise For Conjugal Rights: Marriage, Sexuality, and Urban Life in Colonial Libreville, Gabon (New African Histories)…
"Through a judicious use of archival material from all levels of the empire…and oral interviews with approximately one hundred Gabonese, the author demonstrates that the growth of the city and the French empire cannot be convincingly written without a full account of the women and men who lived there, their struggles to form intimate relationships, and the strains that resulted from those relationships. …Conjugal Rights has much to offer readers, more than can be discussed here. Those interested in sexuality, gender, marriage, law, colonialism, and urban history— and not just in an African context—will be richly rewarded by the book."—American Historical Review

"[Jean-Baptiste] eloquently describes how the 'sexual economy' of emotional, social, legal andphysical relationships between women and men shaped urban life… Her book is an importantaddition to many debates in African studies." —Journal of African History

"As a study of Francophone Africa written in English, Conjugal Rights is doubly valuable. Bringing together cutting-edge urban studies, gender history and the history of emotions, Jean-Baptiste's work insists that the shape of Libreville owed as much to the shifting fortunes of marriage and sexual relationships as to any set of commodity imports and exports. It points us toward a new and much fuller understanding of the lives of African women and men in cities where personal and political constructions regularly flowed over the boundaries planned for them by colonialism."—Teresa A. Barnes, University of Illinois

"Richly documented and highly readable, Conjugal Rights illuminates the complex interplay between marriage, sexuality, economy and authority in a colonial African city. Moving beyond conventional narratives of colonial power and African agency, Jean-Baptiste argues persuasively that limits on both left spaces of manoeuver and debate in which women and men sometimes managed and sometimes failed to realize their emotional and material aspirations, and apparently rigid rules of church and state proved to be unstable and inconclusive in practice."—Sara S. Berry, author of No Condition Is Permanent: The Social Dynamics of Agrarian Change in Sub-Saharan Africa

"This remarkable study draws upon an impressive array of sources to recast the historiography of African urbanization in ways that belie conventional narratives."—Barbara M. Cooper, Rutgers University
Ohio University Press, 9780821421208, 336pp.
Publication Date: August 15, 2014
About the Author
Rachel Jean–Baptiste is an associate professor of African history at the University of California, Davis. Her articles have appeared in Journal of the History of Sexuality,Journal of Women's History, and the Journal of African History.