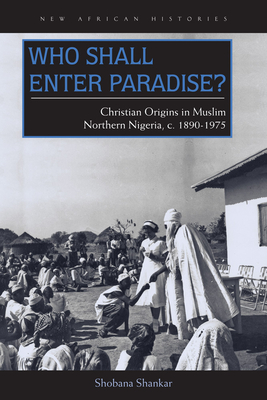 Who Shall Enter Paradise? (Hardcover)
Christian Origins in Muslim Northern Nigeria, c. 1890–1975 (New African Histories)
Ohio University Press, 9780821421239, 240pp.
Publication Date: October 15, 2014
Other Editions of This Title:
Paperback (10/15/2014)
* Individual store prices may vary.
Description
Who Shall Enter Paradise? recounts in detail the history of Christian-Muslim engagement in a core area of sub-Saharan Africa's most populous nation, home to roughly equal numbers of Christians and Muslims. It is a region today beset by religious violence, in the course of which history has often been told in overly simplified or highly partisan terms. This book reexamines conversion and religious identification not as fixed phenomena, but as experiences shaped through cross-cultural encounters, experimentation, collaboration, protest, and sympathy.

Shobana Shankar relates how Christian missions and African converts transformed religious practices and politics in Muslim Northern Nigeria during the colonial and early postcolonial periods. Although the British colonial authorities prohibited Christian evangelism in Muslim areas and circumscribed missionary activities, a combination of factors—including Mahdist insurrection, the abolition of slavery, migrant labor, and women's evangelism—brought new converts to the faith. By the 1930s, however, this organic growth of Christianity in the north had given way to an institutionalized culture based around medical facilities established in the Hausa emirates. The end of World War II brought an influx of demobilized soldiers, who integrated themselves into the local Christian communities and reinvigorated the practice of lay evangelism.

In the era of independence, Muslim politicians consolidated their power by adopting many of the methods of missionaries and evangelists. In the process, many Christian men and formerly non-Muslim communities converted to Islam. A vital part of Northern Nigerian Christianity all but vanished, becoming a religion of "outsiders."
About the Author
Shobana Shankar is an assistant professor of history at Stony Brook University (SUNY). She serves as coeditor for the book series Studies of Religion in Africa and has coedited, with Afe Adogame, a collection of essays titled Religion on the Move! New Dynamics of Religious Expansion in a Globalizing World.
Praise For Who Shall Enter Paradise?: Christian Origins in Muslim Northern Nigeria, c. 1890–1975 (New African Histories)…
"Shankar challenges the assumption, so common in the history of Western education and modernity, that the North is backward in both because it did not allegedly encourage the spread of education and Christianity.…The book is very clear on religious co-existence, and also on the changes to Islamic culture. Thus, its conclusions open up new avenues to examine further the impact of Christianity on Islam and vice-versa."—American Historical Review
"Perhaps the most important contribution of the book is Shankar's acknowledgment that [Northern Nigeria] possessed all elements of modernity for a long time. … The evidence of non-Islamic influences, very well developed in the book, expands the historiography of the colonial era … There is a lot in this book that offers leads for new directions, notably in the dimension of a prayer economy." —American Historical Review
"This book by Shobana Shankar is a real eye-opener: she reveals the world of Christians, since 1890 half-hidden within Nigeria's Muslim Hausaland, both as a community and as a series of remarkable individuals. Missionaries and converts alike are treated with insight and a remarkable depth of detail, culled from rarely read sources."—Murray Last, professor emeritus of anthropology, University College London
"…A landmark work that will usher in new era of writing on northern Nigeria.…[Its] pertinence lies in its potential as an alternative source to counterbalance the misleading yet popular narrative which prefers to depict the part of Nigeria commonly called the 'core north' as being an almost, if not, exclusive preserve of Muslims." —Africa at LSE blog
"Unsettling much of the received history of religion in Nigeria, this original, deeply compelling history shows how Christianity and Islam have been mutually imbricated as lived religions and even co-constituted across time."—Benjamin Soares, African Studies Centre, Leiden, The Netherlands