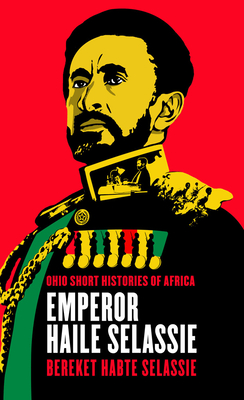 Emperor Haile Selassie (Ohio Short Histories of Africa)
Paperback

* Individual store prices may vary.
Description
Emperor Haile Selassie was an iconic figure of the twentieth century, a progressive monarch who ruled Ethiopia from 1916 to 1974. This book, written by a former state official who served in a number of important positions in Selassie's government, tells both the story of the emperor's life and the story of modern Ethiopia.
After a struggle for the throne in 1916, the young Selassie emerged first as regent and then as supreme leader of Ethiopia. Over the course of his nearly six-decade rule, the emperor abolished slavery, introduced constitutional reform, and expanded educational opportunity. The Italian invasion of Ethiopia in the 1930s led to a five-year exile in England, from which he returned in time to lead his country through World War II. Selassie was also instrumental in the founding of the Organization of African Unity in 1963, but he fell short of the ultimate goal of a promised democracy in Ethiopia. The corruption that grew under his absolute rule, as well as his seeming indifference to the famine that gripped Ethiopia in the 1970s, led finally to his overthrow by the armed forces that he had created.
Haile Selassie was an enlightened monarch in many ways, but also a man with flaws like any other. This short biography is a sensitive portrayal of Selassie as both emperor and man, by one who knew him well.
Praise For Emperor Haile Selassie (Ohio Short Histories of Africa)…
"Anyone searching for a quick introduction to Ethiopia's fascinating history could happily turn to Emperor Haile Selassie as a starting point."—Focus on the Horn

"Emperor Haile Selassie is a readable, well-organized book that accurately portrays the life of the Ethiopian King of Kings and, through him, the history of the nation. The author is at his best in relating his personal experience and ties to the Emperor—original material that I found fascinating."—Theodore M. Vestal, author of The Lion of Judah in the New World: Emperor Haile Selassie of Ethiopia and the Shaping of Americans' Attitudes toward Africa

"An informative guide, with an insider's perspective, on a pivotal piece of African history."—Publishers Weekly
Ohio University Press, 9780821421277, 156pp.
Publication Date: October 23, 2014
About the Author
Bereket Habte Selassie is William E. Leuchtenburg Professor of African Studies and Law, University of North Carolina at Chapel Hill and former attorney general of Ethiopia as well as associate justice of the Supreme Court of Ethiopia.