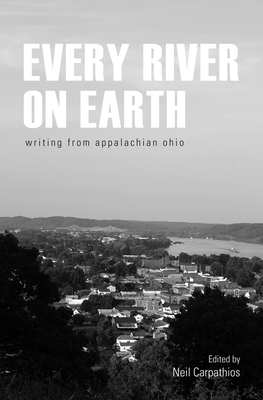 Every River on Earth
Writing from Appalachian Ohio
Paperback

* Individual store prices may vary.
Other Editions of This Title:
Hardcover (1/1/2015)
Description
Every River on Earth: Writing from Appalachian Ohio includes some of the best regional poetry, fiction, and creative nonfiction from forty contemporary writers, both established and up-and-coming. The wide range of material from authors such as David Baker, Don Bogen, Michelle Burke, Richard Hague, Donald Ray Pollock, and others, offers the reader a window into daily life in the region. The people, the landscape, the struggles, and the deepest undercurrents of what it means to be from and of a place are revealed in these original, deeply moving, and sometimes shocking pieces.

The book is divided into four sections: Family & Folks, The Land, The Grind, and Home & Away, each of which explores a different aspect of the place that these authors call home. The sections work together beautifully to capture what it means to live, to love, and to die in this particular slice of Appalachia. The writing is accessible and often emotionally raw; Every River on Earth invites all types of readers and conveys a profound appreciation of the region's character.

The authors also offer personal statements about their writing, allowing the reader an intimate insight into their processes, aesthetics, and inspirations. What is it to be an Appalachian? What is it to be an Appalachian in Ohio? This book vividly paints that picture.


Every River on Earth
David Lee Garrison

I look out the window and see
through the neighbor's window

to an Amish buggy
where three children are peeping back,

and in their eyes I see the darkness
of plowed earth hiding seed.

Wind pokes the land in winter,
trying to waken it,

and in the melting snow
I see rainbows and in them

every river on earth. I see all the way
to the ocean, where sand and stones

embrace each falling wave
and reach back to gather it in.
Praise For Every River on Earth: Writing from Appalachian Ohio…
"Everything I wrote fell flat and lifeless on the page until I finally began to set my fiction in southern Ohio. As I kept writing about it, I began to see the place in a new light, which is, I think, one of the chief things that art is supposed to do."—From the foreword by Donald Ray Pollock, author of Knockemstiff and The Devil All the Time

"Throughout [Carpathios'] poems and stories almost as much attention is paid to our land as to plot andcharacter, from sycamore trees and foothills to the exploded hillsides lining our highways…They are intertwined and interdependent and, as this is writing from the Appalachian foothills, it simply could not be any other way."—Middle West Review

"I read many compilations by and about Appalachians, but seldom have I read a collection so rooted in place as Every River on Earth. Edited skillfully by Neil Carpathios…this intriguing collection is divided into four parts that speak to the Appalachian experience as defined by southern Ohio."—Roberta Schultz, WVXU Cincinnati
Ohio University Press, 9780821421291, 176pp.
Publication Date: January 1, 2015
About the Author
Neil Carpathios is an award-winning poet and author of three full-length poetry collections, as well as several chapbooks. He teaches at Shawnee State University in Portsmouth, Ohio, where he also serves as coordinator of creative writing.