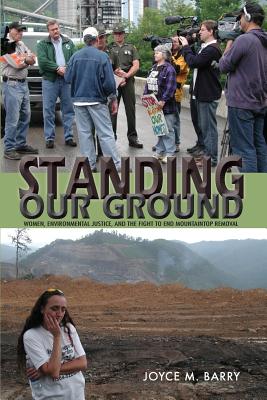 Standing Our Ground (Paperback)
Women, Environmental Justice, and the Fight to End Mountaintop Removal (Race, Ethnicity and Gender in Appalachia)
Ohio University Press, 9780821421321, 208pp.
Publication Date: August 15, 2014
* Individual store prices may vary.
Description
Standing Our Ground: Women, Environmental Justice, and the Fight to End Mountaintop Removal examines women's efforts to end mountaintop removal coal mining in West Virginia. Mountaintop removal coal mining, which involves demolishing the tops of hills and mountains to provide access to coal seams, is one of the most significant environmental threats in Appalachia, where it is most commonly practiced.

The Appalachian women featured in Barry's book have firsthand experience with the negative impacts of Big Coal in West Virginia. Through their work in organizations such as the Coal River Mountain Watch and the Ohio Valley Environmental Coalition, they fight to save their mountain communities by promoting the development of alternative energy resources. Barry's engaging and original work reveals how women's tireless organizing efforts have made mountaintop removal a global political and environmental issue and laid the groundwork for a robust environmental justice movement in central Appalachia.

About the Author
Joyce M. Barry is a visiting assistant professor of women's studies at Hamilton College. Her work has received support from the National Endowment for the Humanities and has appeared in such national publications as Women's Studies Quarterly, Environmental Justice, Environmental Ethics, and the National Women's Studies Association Journal. Barry grew up in West Virginia's southern coalfields, and now resides in Clinton, New York.
Praise For Standing Our Ground: Women, Environmental Justice, and the Fight to End Mountaintop Removal (Race, Ethnicity and Gender in Appalachia)…
"What a magnificent book! The author skillfully weaves theoretical discussions into a fast-paced narrative. Standing Our Ground is well written, well researched, and on solid theoretical ground. The book offers a unique lens: coal is a highly masculinized world, and Barry opens up a view of women's roles and activism inside this world, which is often closed to outsiders."—Joni Seager, author of Gender, Poverty, and the Environment
"Barry exposes the coal industry's harsh effects on working-class women in Appalachia, revealing the symbiosis between gender oppression and environmental destruction. No passive victims, the women she profiles have become leading advocates for alternative energy."—Ms. Magazine
"Standing Our Ground will appeal to a wide variety of scholars interested in intersectional analyses of social and environmental problems…at a time when so much of the climate change discourse is focused on broad solutions at the level of global environmental policy, Barry's book is a crucial look into the lives of individuals living day to day with the consequences of our lifestyle and policy choices."—Environmental Values
"(Standing Our Ground) highlights negatively stereotyped working-class white and nonwhite women in a 'gendered articulation' that speaks to diverse issues of class and disenfranchisement at a 'global crossroads' in his
"Standing Our Ground: Women, Environmental Justice, and the Fight to End Mountaintop Removal places the anti-mountaintop removal struggle squarely as a global issue with human and environmental costs. Barry successfully illustrates how local
"Standing Our Ground will appeal to a wide variety of scholars interested in intersectional analyses of social and environmental problems…at a time when so much of the climate change discourse is focused on broad solutions at the level of global environmental policy, Barry's book is a crucial look into the lives of individuals living day to day with the consequences of our lifestyle and policy choices." —Environmental Values