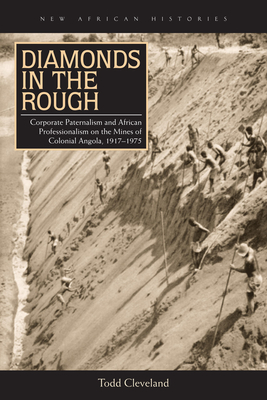 Diamonds in the Rough (Paperback)
Corporate Paternalism and African Professionalism on the Mines of Colonial Angola, 1917–1975 (New African Histories)
Ohio University Press, 9780821421345, 280pp.
Publication Date: July 15, 2015
Other Editions of This Title:
Hardcover (7/15/2015)
* Individual store prices may vary.
Description
Diamonds in the Rough explores the lives of African laborers on Angola's diamond mines from the commencement of operations in 1917 to the colony's independence from Portugal in 1975. The mines were owned and operated by the Diamond Company of Angola, or Diamang, which enjoyed exclusive mining and labor concessions granted by the colonial government. Through these monopolies, the company became the most profitable enterprise in Portugal's African empire. After a tumultuous initial period, the company's mines and mining encampments experienced a remarkable degree of stability, in striking contrast to the labor unrest and ethnic conflicts that flared in other regions. Even during the Angolan war for independence (1961–75), Diamang's zone of influence remained comparatively untroubled.
Todd Cleveland explains that this unparalleled level of quietude was a product of three factors: African workers' high levels of social and occupational commitment, or "professionalism"; the extreme isolation of the mining installations; and efforts by Diamang to attract and retain scarce laborers through a calculated paternalism. The company's offer of decent accommodations and recreational activities, as well as the presence of women and children, induced reciprocal behavior on the part of the miners, a professionalism that pervaded both the social and the workplace environments. This disparity between the harshness of the colonial labor regime elsewhere and the relatively agreeable conditions and attendant professionalism of employees at Diamang opens up new ways of thinking about how Africans in colonial contexts engaged with forced labor, mining capital, and ultimately, each other.
About the Author
Todd Cleveland is an assistant professor of history at the University of Arkansas. He is the author of Stones of Contention and Diamonds in the Rough, as well numerous book chapters and articles on the history of diamond mining and on soccer within the former Portuguese empire in Africa. He has been a Fulbright scholar in both Angola and Ghana.
Praise For Diamonds in the Rough: Corporate Paternalism and African Professionalism on the Mines of Colonial Angola, 1917–1975 (New African Histories)…
"This meticulous study is a must read for scholars and graduate students interested in African labor history and Portuguese colonialism. Those with an interest in (diamond) mining will take away as much as those reading for information on forced labor or on the interplay between the Portuguese colonial state and concessional companies. However, those keen to learn about the rich texture of workers' experiences, both on and o the mine, stand to gain the most."—H-Net
"Diamonds in the Rough is a significant contribution to Angolan historiography and to the literature on mining on the continent. Cleveland persuasively argues that laborers on Angolan mines were active participants in shaping the stable conditions that made Diamang profitable, and, ironically, helped further the Portuguese regime in Angola."—Marissa Moorman, author of Intonations: A Social History of Music and Nation in Luanda, Angola, from 1945 to Recent Times
"[Cleveland] is particularly strong on African workers' experiences and perceptions of the mines and its Janus-faced character: getting well paid while being exploited. … [Diamonds in the Rough] is balanced, showing that there are no facile answers and the Appendix, entitled "Digging Deeper," contains useful discussion questions and suggestions for further reading, all of which enhances its quality for the educated layperson and its obvious audience, students."—International Journal of African Historical Studies
"[Cleveland] appropriately and generously acknowledges the many people who shepherded him through these challenge, but, in the end, his own patience and determination were crucial for the appearance of this remarkable work."—Journal of Interdisciplinary History
"This book is relevant, rich, and interesting for people who are interested in the histories of mining in colonial settings, the relationship between the colonial state and companies, the role of companies in the pacification of native peoples, and the emergence and reflections of the working class in the colonies."—Canadian Journal of History