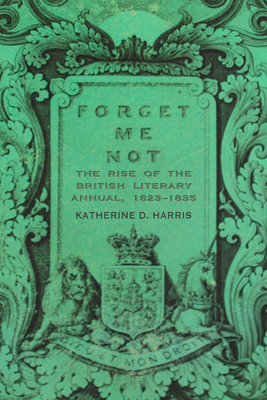 Forget Me Not
The Rise of the British Literary Annual, 1823–1835 (Series in Victorian Studies)
Hardcover

* Individual store prices may vary.
Description
By November 1822, the British reading public had already voraciously consumed both Walter Scott's expensive novels and Rudolf Ackermann's exquisite lithographs. The next decade, referred to by some scholars as dormant and unproductive, is in fact bursting with Forget Me Nots, Friendship's Offerings, Keepsakes, and Literary Souvenirs. By wrapping literature, poetry, and art into an alluring package, editors and publishers saturated the market with a new, popular, and best-selling genre, the literary annual. In Forget Me Not, Katherine D. Harris assesses the phenomenal rise of the annual and its origins in other English, German, and French literary forms as well as its social influence on women, its redefinition of the feminine, and its effects on late nineteenth- and early twentieth-century print culture. Harris adopts an interdisciplinary approach that uses textual and social contexts to explore a forum of subversive femininity, where warfare and the masculine hero were not celebrated.
Initially published in diminutive, decoratively bound volumes filled with engravings of popularly recognized artwork and "sentimental" poetry and prose, the annuals attracted a primarily middle-class female readership. The annuals were released each November, making them an ideal Christmas gift, lover's present, or token of friendship. Selling more than 100,000 copies during each holiday season, the annuals were accused of causing an epidemic and inspiring an "unmasculine and unbawdy age" that lasted through 1860 and lingered in derivative forms until the early twentieth century in both the United States and Europe. The annual thrived in the 1820s and after despite—or perhaps because of—its "feminine" writing and beautiful form.
Praise For Forget Me Not: The Rise of the British Literary Annual, 1823–1835 (Series in Victorian Studies)…
"Carefully researched and well documented, the volume will be a boon to those interested in Romantic and Victorian literature, history, and culture, and of particular appeal to those interested in Romantic and Victorian women poets. Recommended."—CHOICE
"Any scholar interested in the origins of the early nineteenth-century annual genre will wish to consult this study."—Victorian Periodicals Review
"Harris picks up the literary annual and examines it from all angles…Discussion of broader trends is brought to life through [her] generous selection of supporting extracts and inclusion of more than sixty illustrations. …This is a thoroughly readable account that makes a compelling case for not forgetting the literary annual."—The Times Literary Supplement
"Harris has performed a valuable service by opening up the subject of the annuals which were, fora decade, the most important literary form in the country."— John Clare Society Journal
"Forget Me Not is a well-researched, detailed history of British literary annuals during the first ten years of the genre. … [It] is the first book-length study that gathers and astutely analyzes existing research, shares new discoveries, and successfully integrates the literary annual within the wider context of 19th century publishing history. The book will serve as a guide to the early history, importance, and influence of literary annuals."—Wordsworth Circle
Ohio University Press, 9780821421369, 410pp.
Publication Date: April 28, 2015
About the Author
Katherine D. Harris an associate professor in the Department of English and Comparative Literature at San José State University, specializes in Romantic-era and nineteenth-century British literature, textual studies and history of the book, and digital humanities.