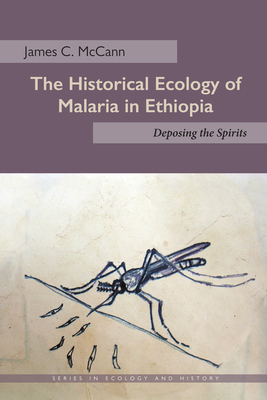 The Historical Ecology of Malaria in Ethiopia
Deposing the Spirits (Ecology & History)
Paperback

* Individual store prices may vary.
Other Editions of This Title:
Hardcover (7/15/2015)
Description
Malaria is an infectious disease like no other: it is a dynamic force of nature and Africa's most deadly and debilitating malady. James C. McCann tells the story of malaria in human, narrative terms and explains the history and ecology of the disease through the science of landscape change. All malaria is local. Instead of examining the disease at global or continental scale, McCann investigates malaria's adaptation and persistence in a single region, Ethiopia, over time and at several contrasting sites.
Malaria has evolved along with humankind and has adapted to even modern-day technological efforts to eradicate it or to control its movement. Insecticides, such as DDT, drug prophylaxis, development of experimental vaccines, and even molecular-level genetic manipulation have proven to be only temporary fixes. The failure of each stand-alone solution suggests the necessity of a comprehensive ecological understanding of malaria, its transmission, and its persistence, one that accepts its complexity and its local dynamism as fundamental features.
The story of this disease in Ethiopia includes heroes, heroines, witches, spirits—and a very clever insect—as well as the efforts of scientists in entomology, agroecology, parasitology, and epidemiology. Ethiopia is an ideal case for studying the historical human culture of illness, the dynamism of nature's disease ecology, and its complexity within malaria.
Praise For The Historical Ecology of Malaria in Ethiopia: Deposing the Spirits (Ecology & History)…
"This is one of the most important books written on Africa in the last ten years—indeed, in any ten years. If this book does not win a prize, then there is truly no justice.…A superb topic, handled here by an accomplished historian at the peak of his powers…The epilogue is simply magnificent. Sparse, almost curt, it makes the case with blinding clarity…The past lives with us. The future is about adaptability, not progress." —David M. Anderson, University of Warwick
"McCann's work is truly a must-read for experts in many fields, from public health, agriculture, and history, to politics and development. This book is a brilliant demonstration of the deeply local and highly adaptable nature of disease and mortality, and the ways in which the historical ecology of disease effects household decision-making and trends in food production and economic development on a national scale."—Focus on the Horn
"This thorough country history … explores malaria's etiology, effects, and the challenges of minimizing, if not controlling, its impact. Historian McCann draws on decades of Ethiopian field experience and familiarity with its historical sources. … Fascinating anecdotes reveal local disease understandings, often blaming malign spirits (hence the subtitle). …Malaria severely challenges public health, but this study will aid the struggle. Summing Up: Recommended."—CHOICE
"Amid renewed calls for global malaria eradication, historian James C. McCann delivers a timely reminder of the complexity and resilience of malaria. His argument concerns interdisciplinarity, humility and scale. … McCann's unique accomplishment is the incorporation of a sophisticated and complex biomedical hypothesis of modern malaria epidemiology into a nuanced historical and cultural narrative. … It will be useful for students of public health and its history."—Social History of Medicine
"McCann writes history with an ethnographic sensibility and a solid grasp of the science. His delightful turn of phrase and accessible writing style make this work an enjoyable read for specialists and non-specialists alike. … [He] eloquently describes the social, economic and political disturbances central to malaria's success, beautifully explains the distinctiveness of this infectious disease, and sensitively links science with illness narratives. …Readers will be left not just knowing more about Ethiopia and malaria, but with an analytical framework with which to enquire about malaria in other locations as well."—Human Ecology
Ohio University Press, 9780821421475, 216pp.
Publication Date: July 15, 2015
About the Author
James C. McCann is a professor of history and chair of the Department of Archaeology at Boston University. He is winner of a John S. Guggenheim Fellowship and the 2014 Distinguished Scholar of the American Society of Environmental History.