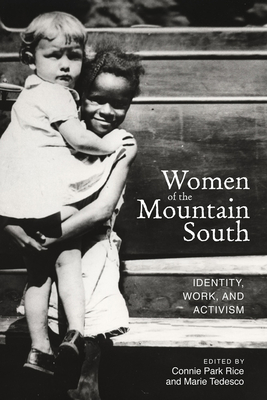 Women of the Mountain South
Identity, Work, and Activism (Race, Ethnicity and Gender in Appalachia)
Paperback

* Individual store prices may vary.
Other Editions of This Title:
Hardcover (3/15/2015)
Description
Scholars of southern Appalachia have largely focused their research on men, particularly white men. While there have been a few important studies of Appalachian women, no one book has offered a broad overview across time and place. With this collection, editors Connie Park Rice and Marie Tedesco redress this imbalance, telling the stories of these women and calling attention to the varied backgrounds of those who call the mountains home.
The essays of Women of the Mountain South debunk the entrenched stereotype of Appalachian women as poor and white, and shine a long-overdue spotlight on women too often neglected in the history of the region. Each author focuses on a particular individual or group, but together they illustrate the diversity of women who live in the region and the depth of their life experiences. The Mountain South has been home to Native American, African American, Latina, and white women, both rich and poor. Civil rights and gay rights advocates, environmental and labor activists, prostitutes, and coal miners—all have lived in the place called the Mountain South and enriched its history and culture.
Praise For Women of the Mountain South: Identity, Work, and Activism (Race, Ethnicity and Gender in Appalachia)…
"Combines secondary and primary material in a way that no other existing book on the topic does…. It is a needed book [that represents] a milestone in the scholarship."—Melanie Goan, author of Mary Breckinridge: The Frontier Nursing Service and Rural Health in Appalachia
"This volume offers an updated historical and intersectional feminist perspective on women in West Virginia and, more broadly, Appalachia...Women of the Mountain South would also be appealing to readers outside of academia interested in...Appalachia and the contributions of women to the histories of these places."—West Virginia History N.S. 11, No. 1, Spring 2017
"Connie Rice Park and Marie Tedesco have masterfully organized this collection of important new essays and commentaries on a rich array of primary documents to add depth and breadth to our understanding of 200 years of diverse women's lives and livelihood in the Mountain South."—Patricia Beaver, coeditor of Helen Matthews Lewis: Living Social Justice in Appalachia
"This is a fabulous and long-overdue collection that highlights just how rich and diverse are the experiences and identities of women in Appalachia. It includes work from some of the best new scholars on the region along with important insights from seasoned veterans. Combining key documents, meaty essays, and questions for discussion, this book will surely be a gold mine for Appalachian studies, but it will also illuminate much broader themes in the gendered history of the United States. I can't wait to assign it to a class."—Kenneth Fones-Wolf, professor of history, West Virginia University, and coauthor of Struggle for the Soul of the Postwar South
Ohio University Press, 9780821421512, 504pp.
Publication Date: March 15, 2015
About the Author
Connie Park Rice is a professor in the Department of History at West Virginia University and the author of Our Monongalia: A History of African Americans in Monongalia County, West Virginia.
Marie Tedesco is the director of the Master of Arts in Liberal Studies program at East Tennessee State University and coeditor of the Ohio University Press Series in Race, Ethnicity, and Gender in Appalachia.