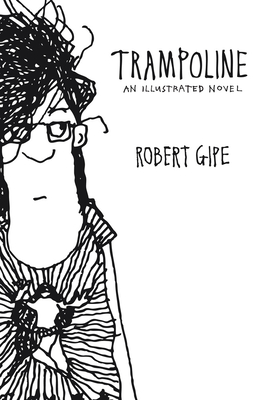 Trampoline (Paperback)
An Illustrated Novel
Ohio University Press, 9780821421536, 336pp.
Publication Date: November 20, 2015
Other Editions of This Title:
Hardcover (3/15/2015)
* Individual store prices may vary.
Description
Dawn Jewell is fifteen. She is restless, curious, and wry. She listens to Black Flag, speaks her mind, and joins her grandmother's fight against mountaintop removal mining almost in spite of herself. "I write by ear," says Robert Gipe, and Dawn's voice is the essence of his debut novel, Trampoline. She lives in eastern Kentucky with her addict mother and her Mamaw, whose stance against the coal companies has earned her the community's ire. Jagged and honest, Trampoline is a powerful portrait of a place struggling with the economic and social forces that threaten and define it. Inspired by oral tradition and punctuated by Gipe's raw and whimsical drawings, it is above all about its heroine, Dawn, as she decides whether to save a mountain or save herself; be ruled by love or ruled by anger; remain in the land of her birth or run for her life.
About the Author
Robert Gipe lives in Harlan, Kentucky, and grew up in Kingsport, Tennessee. His fiction has appeared in Appalachian Heritage, Still, Motif, and Pine Mountain Sand & Gravel.
Praise For Trampoline: An Illustrated Novel…
"A story that left my heart at once warmed and shattered, Trampoline rides the razor's edge of raw beauty. This is Appalachia illuminated with a light uniquely its own. I dare say Robert Gipe has invented his own genre."—David Joy, author of Where All Light Tends to Go
"Fascinating, honest, and sometimes darkly comic…The consciousness of the mountain itself and the animals on it become the quiet heart of this loud and heartbreaking book."—Orion
"Rare is the novel that delivers on all that is promised by fans or by the carefully curated blurbs featured on its cover. But, in my mind, Trampoline fulfills these promises, portraying Appalachia in a manner that falls prey neither to the demeaning stereotypes nor the romanticized clichés that are commonly associated with the region and its literature."—Zackary Vernon, Cold Mountain Review
"I fear this book. I'm in love with this book. I'm laughing out loud at this book. I am knocked to my knees in grief by this book. One of the most powerful works of contemporary fiction I've read in years. I'll never forget Dawn Jewell. I'll never escape Canard County."—Ann Pancake, author of Strange as this Weather Has Been and Me and My Daddy Listen to Bob Marley
"Dawn Jewell is one of the most memorable and endearing narrators I have ever read. She's like a combination of Scout Finch, Huck Finn, Holden Caulfield, and True Grit's Mattie Ross, but even more she is completely her own person, the creation of Robert Gipe, an author who has given us a novel that provides everything we need in great fiction: a sense of place that drips with kudzu and coal dust; complex characters who rise up off the page as living, breathing people we will not soon forget; and a rollicking story that is by turns hilarious, profound, deeply moving, and always lyrically beautiful. I think Trampoline is one of the most important novels to come out of Appalachia in a long while and announces an important new voice in our literature. I loved every single bit of this book."—Silas House, author of Clay's Quilt and Eli the Good
"Dawn Jewell is one of the most memorable and endearing narrators I have ever read. She's like a combination of Scout Finch, Huck Finn, Holden Caulfield, and True Grit's Mattie Ross, but even more she is completely her own person, the creation of Robert Gipe, an author who has given us a novel that provides everything we need in great fiction: a sense of place that drips with kudzu and coal dust; complex characters who rise up off the page as living, breathing people we will not soon forget; and a rollicking story that is by turns hilarious, profound, deeply moving, and always lyrically beautiful. I think Trampoline is one of the most important novels to come out of Appalachia in a long while and announces an important new voice in our literature. I loved every single bit of this book."
— Silas House, author of Clay's Quilt and Eli the Good
"In 1980… John Kennedy Toole's classic, A Confederacy of Dunces, was published by the Louisiana State University Press. The following year it won the Pulitzer Prize in fiction. That may have been the last time a university press introduced a major American voice—the last time, that is, until now…. Trampoline is a new American masterpiece."
—Knoxville News Sentinel
"There are the books you like, and the books you love, and then there are the ones you want to hold to your heart for a minute after you turn the last page. Robert Gipe's illustrated novel Trampoline is one of those—not just well written, which it is; and not just visually appealing, which the wonderfully deadpan black-and-white drawings make sure of; but there is something deeply lovable about it, an undertow of affection you couldn't fight if you wanted to. …Gipe deftly avoids every single cliché that could trip such a story up, which includes having a pitch-perfect ear for dialect and making it into something marvelous." —Lisa Peet, Library Journal's "What We're Reading"