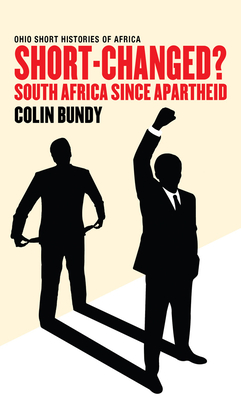 Short-Changed? (Paperback)
South Africa since Apartheid (Ohio Short Histories of Africa)
Ohio University Press, 9780821421550, 174pp.
Publication Date: January 6, 2015
* Individual store prices may vary.
Description
What have been the most significant developments—political, social, economic—in South Africa since 1994? How much has changed since the demise of apartheid, and how much remains stubbornly the same? Should one celebrate a robust democracy now two decades old, or lament the corrosive effects of factionalism, greed, and corruption on political life? Colin Bundy tries to answer such questions, while avoiding simplistic or one-sided assessments of life under Mandela, Mbeki, and Zuma. He recognizes real advances under ANC rule but also identifies the limits and contradictions of such progress. Bundy demonstrates, too, how the country's past permeates the present, complicating and constraining the politics of transition, so that genuine transformation has been short-changed.
About the Author
Colin Bundy is one of South Africa's foremost historians and the author of The Rise and Fall of the South African Peasantry as well as the biography of Govan Mbeki in the series Ohio Short Histories of Africa.
Praise For Short-Changed?: South Africa since Apartheid (Ohio Short Histories of Africa)…
"South Africa is a place where the dust never settles. The past is always palpable in its present. In this exceptionally thoughtful book, one of the country's most distinguished historians, Colin Bundy, explains quite how much this is true. For all its brevity, Short Changed? packs a hefty punch: not only does it offer a compelling explanation for the fall of apartheid, but it makes a very persuasive case for the ways in which the long shadow of colonialism has insinuated itself, is insinuating itself, into the South African here-and-now—and into its probable futures."
—John Comaroff, Harvard University
"Bundy's lively and deeply insightful book demonstrates the importance of historical analysis for those who wish to understand contemporary South Africa. Bundy shows that the country's past continues to cast a long shadow over her present; and he argues that the dangers and opportunities that the future holds can only be understood in the context of long range patterns of accumulation and exploitation."
—Anthony Butler, University of Cape Town
"Insightful and thoughtful throughout, this judicious assessment clarifies the problems facing post-apartheid South Africa with precision and care. I know of no better historically informed introduction to the state of the nation."
—Saul Dubow, author of South Africa's Struggle for Human Rights