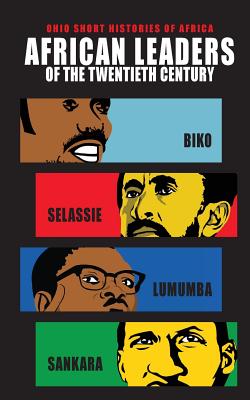 African Leaders of the Twentieth Century
Biko, Selassie, Lumumba, Sankara (Ohio Short Histories of Africa)
Paperback

* Individual store prices may vary.
Description
A History Book Club Reading Selection
This omnibus edition brings together concise and up-to-date biographies of Steve Biko, Emperor Haile Selassie, Patrice Lumumba, and Thomas Sankara. African Leaders of the Twentieth Century will complement courses in history and political science and serve as a useful collection for the general reader.

Steve Biko, by Lindy Wilson
Steve Biko inspired a generation of black South Africans to claim their true identity and refuse to be a part of their own oppression. This short biography shows how fundamental he was to the reawakening and transformation of South Africa in the second half of the twentieth century and just how relevant he remains.

Emperor Haile Selassie, by Bereket Habte Selassie
Emperor Haile Selassie was an iconic figure of the twentieth century, a progressive monarch who ruled Ethiopia from 1916 to 1974. The fascinating story of the emperor¹s life is also the story of modern Ethiopia.

Patrice Lumumba, by Georges Nzongola-Ntalaja
Patrice Lumumba was a leader of the independence struggle in what is today the Democratic Republic of the Congo. Decades after his assassination, Lumumba remains one of the heroes of the twentieth-century Africanindependence movement.

Thomas Sankara: An African Revolutionary, by Ernest Harsch
Thomas Sankara, often called the African Che Guevara, was president of Burkina Faso, one of the poorest countries in Africa, until his assassination during the military coup that brought down his government. This is the first English-language book to tell the story of Sankara's life and struggles.
Ohio University Press, 9780821421611, 624pp.
Publication Date: February 17, 2015
About the Author
Lindy Wilson is an independent South African documentary filmmaker and writer. Her films include Crossroads, Last Supper in Hortsley Street, and Robben Island Our University.
Bereket Habte Selassie is William E. Leuchtenburg Professor of African Studies and Law, University of North Carolina at Chapel Hill and former attorney general of Ethiopia as well as associate justice of the Supreme Court of Ethiopia.
Georges Nzongola-Ntalaja is a professor of African, African American, and diaspora studies at the University of North Carolina at Chapel Hill and professor emeritus of African studies at Howard University. He is a past president of the African Studies Association and the author of The Congo from Leopold to Kabila: A People's History.
Ernest Harsch is a research scholar at the Institute of African Studies at Columbia University. He worked on African issues at the United Nations for more than twenty years and is the author of South Africa: White Rule, Black Revolt.