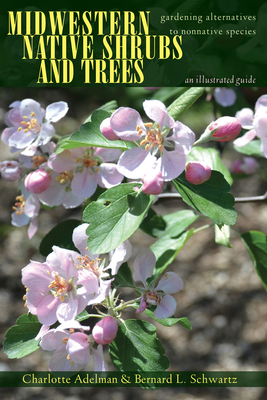 Midwestern Native Shrubs and Trees
Gardening Alternatives to Nonnative Species: An Illustrated Guide
Hardcover

* Individual store prices may vary.
Other Editions of This Title:
Paperback (3/30/2017)
Description
In this companion volume to the bestselling The Midwestern Native Garden: Native Alternatives to Nonnative Flowers and Plants, Charlotte Adelman and Bernard L. Schwartz offer another indispensible guide to replacing nonnative plants with native alternatives. This time, their subject is the native woody species that are the backbone of our gardens and landscapes.
Among other ecological benefits, native shrubs and trees provide birds and butterflies with vital food and reproductive sites that nonnative species cannot offer. And they tend to be hardier and easier to maintain. The authors provide a comprehensive selection of native woody alternatives that, season by season, provide effects similar to those of nonnative shrubs and trees used for ornamental purposes and shade. These plants are suitable for all garden styles, provide blooms and fall color, and have the same cultivation requirements as their nonnative counterparts. Nature notes alert readers to the native species' unique ecological roles.
Unlike other gardening guides, Midwestern Native Shrubs and Trees goes beyond mere suggestion to provide gardeners with the tools they need to make informed, thoughtful choices. Knowing which native species to plant for desired effects empowers landscapers and gardeners to take on a greater role in protecting our midwestern environment.
Praise For Midwestern Native Shrubs and Trees: Gardening Alternatives to Nonnative Species: An Illustrated Guide…
"It will be difficult to pry this second 'Gardening Alternatives' book out of most Midwestern gardeners' hands.…The authors make it so easy for us to grow our own personal piece of paradise—to respect and relish our glorious Midwestern roots. This isn't a book that will gather dust on a bookshelf. Start digging."—Susan Randstrom-Bruck, Chicagoland Gardening

"A great book to take to the garden center, Midwestern Native Shrubs and Trees is organized so you can look up any woody plant in question and find recommended native plants with similar ornamental and cultural attributes, along with a description of their ecological benefits and some fun facts. The photography is extensive but not overly polished, aptly showcasing the simple beauty of native plants in real-life landscapes."—Fine Gardening

"With power and a sense of urgency, the preface of the book explains its rationale.…The authors [have the] ability to make things small, [communicating] important concepts with an economy of words. The introduction expands upon the theme and is well-reasoned, wonderfully written and compelling―very compelling.…This book fills a very large gap; I know of none like it."—The Prairie Promoter

"Beautifully illustrated…[Midwestern Native Shrubs and Trees] demonstrates how native woody plants, often ignored or underrepresented in the horticultural trade, not only form the backbone of a functioning habitat but serve as life-giving agents to birds, and a vast array of beneficial insects…As part of [Audubon Great Lakes]'s Plants for Birds campaign, we at Audubon urge Midwesterners to secure a copy of [this book] and put its concepts into practice. The survival of our region's birds depends on human creations of gardens, yards, and landscapes resplendent with native herbaceous and woody species."—Audubon Great Lakes

"One of the most important … reference books recently published is Midwestern Native Shrubs and Trees: Gardening Alternatives to Nonnative Species… An extraordinary amount of information is found in this guide, including extensive descriptions of hundreds of non-native plants and their native alternatives to plant in your yard."—The Plain Dealer
Ohio University Press, 9780821421666, 448pp.
Publication Date: March 30, 2017
About the Author
Charlotte Adelman and Bernard L. Schwartz are the authors of Prairie Directory of North America – The United States, Canada, and Mexico and The Midwestern Native Garden: Native Alternatives to Nonnative Flowers and Plants, winner of the 2012 Helen Hull Award from the National Garden Clubs. In 2014, Adelman was awarded an Audubon Chicago Region Habitat Project Conservation Leadership Award.
or
Not Currently Available for Direct Purchase