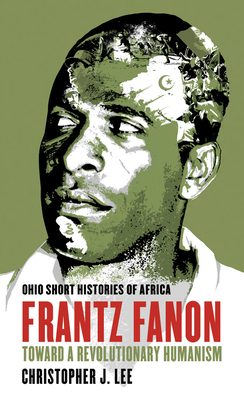 Frantz Fanon (Paperback)
Toward a Revolutionary Humanism (Ohio Short Histories of Africa)
Ohio University Press, 9780821421741, 234pp.
Publication Date: November 13, 2015
* Individual store prices may vary.
Description
A CHOICE "Significant Title for Undergraduates," 2015–2016
Psychiatrist, philosopher, and revolutionary, Frantz Fanon is one of the most important intellectuals of the twentieth century. He presented powerful critiques of racism, colonialism, and nationalism in his classic books, Black Skin, White Masks (1952) and The Wretched of the Earth (1961). This biography reintroduces Fanon for a new generation of readers, revisiting these enduring themes while also arguing for those less appreciated—namely, his anti-Manichean sensibility and his personal ethic of radical empathy, both of which underpinned his utopian vision of a new humanism. Written with clarity and passion, Christopher J. Lee's account ultimately argues for the pragmatic idealism of Frantz Fanon and his continued importance today.
About the Author
Christopher J. Lee is the author of Frantz Fanon, Unreasonable Histories: Nativism, Multiracial Lives, and the Genealogical Imagination in British Africa and the editor of Making a World after Empire: The Bandung Moment and Its Political Afterlives. He is an associate professor of history at Lafayette College.
Praise For Frantz Fanon: Toward a Revolutionary Humanism (Ohio Short Histories of Africa)…
"Lee's marvelous and careful biographical study is now the go-to book for those seeking to understand Frantz Fanon in his historical and intellectual context. It is, simply put, synthesis and analysis at their best."—James D. Le Sueur, author of Uncivil War: Intellectuals and Identity Politics during the Decolonization of Algeria
"This book provides the reader with an invaluable guide to Fanon's life and an accessible gateway to those interested in further exploring the intellectual worlds in which he developed his thinking.."—Africa at LSE
"Christopher Lee has written a delightfully compelling introduction to Frantz Fanon. Well-researched and thoroughly grounded, Lee's study admirably situates Fanon in the broadest historical context, while subtly explaining Fanon's powerful legacy today. This book taught me many things, revealing in intriguing ways the works of a black thinker from Martinique who so passionately embraced the Algerian Revolution, and so ardently desired to be embraced by it."—Henry Louis Gates, Jr., Harvard University
"In Frantz Fanon: Toward a Revolutionary Humanism, Christopher J. Lee takes on the task of introducing a complex thinker in a short tract…. [He] provides a whirlwind tour of Fanon's life, ideas and context…. Lee's reading of Fanon provides a much needed nuance that is often missing when dealing with Fanon."—Marx and Philosophy
"This smart and much-needed study persuasively resituates the life and thought of Fanon for a twenty-first-century audience."—Todd Shepard, author of The Invention of Decolonization: The Algerian War and the Remaking of France