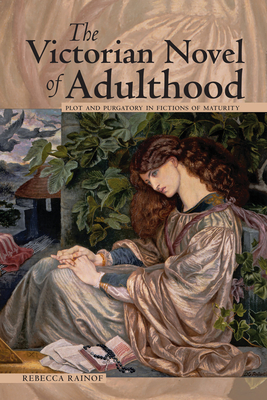 The Victorian Novel of Adulthood (Hardcover)
Plot and Purgatory in Fictions of Maturity (Series in Victorian Studies)
Ohio University Press, 9780821421789, 264pp.
Publication Date: September 9, 2015
* Individual store prices may vary.
Description
In The Victorian Novel of Adulthood, Rebecca Rainof confronts the conventional deference accorded the bildungsroman as the ultimate plot model and quintessential expression of Victorian nation building. The novel of maturity, she contends, is no less important to our understanding of narrative, Victorian culture, and the possibilities of fiction.

Reading works by Charles Dickens, George Eliot, Henry James, John Henry Newman, and Virginia Woolf, Rainof exposes the little-discussed theological underpinnings of plot and situates the novel of maturity in intellectual and religious history, notably the Oxford Movement. Purgatory, a subject hotly debated in the period, becomes a guiding metaphor for midlife adventure in secular fiction. Rainof discusses theological models of gradual maturation, thus directing readers' attention away from evolutionary theory and geology, and offers a new historical framework for understanding Victorian interest in slow and deliberate change.
About the Author
Rebecca Rainof is an associate professor of English at the Catholic University of America. Her work has appeared in such journals as SEL: Studies in English Literature, 1500–1900 and Victorian Poetry.
Praise For The Victorian Novel of Adulthood: Plot and Purgatory in Fictions of Maturity (Series in Victorian Studies)…
"In this highly original argument, Rebecca Rainof reveals a Victorian fascination with processes of change that are so slow and gradual that they seem almost like stasis. The Victorian Novel of Adulthood joins historical research with narrative theory to think in persuasive new ways about the realist novel's interest in middle age—the 'turning stretch,' as opposed to the turning point."—Caroline Levine, University of Wisconsin, Madison
"Though Rainof's book is clearly scholarly, the loveliness of the cover … is matched by a certain stylishness of prose that is certainly accessible to a sophisticated lay reader. Indeed, her writing … is quite often engaging and lively … The primary readers of this book will be scholars and graduate students, but writers of stories and lovers of English literature alike would derive benefit and a good deal of enjoyment from the volume."—Newman Studies Journal
"This innovative interdisciplinary study treats novels alongside essays, poems, and Pre-Raphaelite art. Drawing attention to narratives of maturity, Rainof argues that slow, moral, internal change mattered deeply to Victorians. Distinguished by extensive research and clear writing, the book illustrates how theological concepts contribute to literary forms."—Linda M. Shires, David and Ruth Gottesman Professor of English, Yeshiva University
"An intriguing counter-history to studies of the Victorian novel focused on the young … Rainof presents a strong book, an engaging argument, and an instructive look at the interconnected history of theology and fiction."—Teresa Mangum, professor and director of the Obermann Center for Advanced Studies, University of Iowa