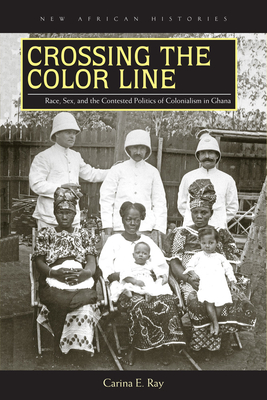 Crossing the Color Line (Paperback)
Race, Sex, and the Contested Politics of Colonialism in Ghana (New African Histories)
Ohio University Press, 9780821421802, 364pp.
Publication Date: October 15, 2015
Other Editions of This Title:
Hardcover (10/15/2015)
* Individual store prices may vary.
Description
Winner of the 2017 Aidoo-Snyder Book Prize
Winner of the 2016 American Historical Association's Wesley-Logan Prize in African diaspora
Finalist for the 2016 Fage and Oliver Prize from the African Studies Association of the UK
Interracial sex mattered to the British colonial state in West Africa. In Crossing the Color Line, Carina E. Ray goes beyond this fact to reveal how Ghanaians shaped and defined these powerfully charged relations. The interplay between African and European perspectives and practices, argues Ray, transformed these relationships into key sites for consolidating colonial rule and for contesting its hierarchies of power. With rigorous methodology and innovative analyses, Ray brings Ghana and Britain into a single analytic frame to show how intimate relations between black men and white women in the metropole became deeply entangled with those between black women and white men in the colony in ways that were profoundly consequential.
Based on rich archival evidence and original interviews, the book moves across different registers, shifting from the micropolitics of individual disciplinary cases brought against colonial officers who "kept" local women to transatlantic networks of family, empire, and anticolonial resistance. In this way, Ray cuts to the heart of how interracial sex became a source of colonial anxiety and nationalist agitation during the first half of the twentieth century.
About the Author
Carina Ray is an associate professor of African and Afro-American studies at Brandeis University. She is coeditor of Navigating African Maritime History and Darfur and the Crisis of Governance in Sudan.
Praise For Crossing the Color Line: Race, Sex, and the Contested Politics of Colonialism in Ghana (New African Histories)…
"A fascinating exploration of sex across the color line in colonial Ghana. This book is a brilliant addition to the literature on sex, gender and empire."—Kwame Anthony Appiah, professor of philosophy and law, New York University
"In this creatively and brilliantly conceived book, Carina Ray uses the story of interracial sexual relationships between European men and African women in the Gold Coast and African men and European women in Britain as an entry point into a much broader history of racial and gender relations.…Crossing the Color Line is tier-one scholarship, capable of directing a new course in historical research on sex, gender, race, diaspora, empire and identity formation."—Africa
"Crossing the Color Line has already made its mark in African and African diaspora studies.…There can be no doubt that this is an important book.…Many authors claim to be bringing colony and metropole into a single analytical fiel
"A book that offers a rare glimpse into the intimate world of mixed race couples in colonial Africa....[Crossing the Color Line] is truly innovative. Whereas historians of the transatlantic slave trade had previously written about the instrumental nature of interracial marriages on the Gold Coast, Ray seeks out the forces of attraction, desire, and love that brought these men and women together, and goes further to demonstrate how ferociously they sought to maintain their unions, even in the face of humiliation and penury."—Canadian Journal of African Studies
"[A] brilliant exposition of the colonial and nationalist politics of interracial unions in the Gold Coast and the eastern Black Atlantic…Through incisive analysis and beautiful narrative detail, the book reminds us that, even more than ideology or material power, it was the intensely personal webs of social relations that structured the politics of colonialism and decolonization."—Journal of Modern History
"The account that Ray provides in Crossing the Color Line is a fine combination of both astonishing insights and disarming lucidity. That she opens up an entire new domain of historical analysis there is no doubt. This book will quickly be recognized as an agenda-setting work and will illuminate debates on race relations not just in Ghana and West Africa, but wherever such relations occurred in the British Empire."
— Ato Quayson, author of Oxford Street, Accra: City Life and the Itineraries of Transnationalism