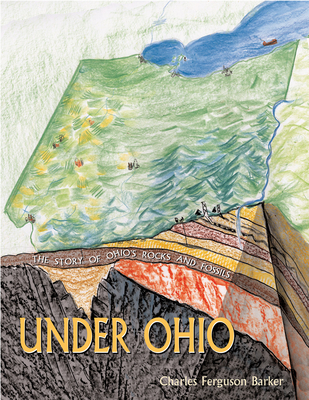 Under Ohio (Paperback)
The Story of Ohio's Rocks and Fossils
Ohio University Press, 9780821421956, 56pp.
Publication Date: January 4, 2016
Other Editions of This Title:
Hardcover (6/15/2007)
* Individual store prices may vary.
Description
There is much more for children to discover about Ohio than first meets the eye. Under Ohio: The Story of Ohio's Rocks and Fossils, by geologist Charles Ferguson Barker, takes young readers underground to reveal the fascinating story of Ohio's geology. Barker presents this story through colorful illustrations, sending his readers down the "Ohio Timepike" and back a billion years to when the earth under Ohio split, creating faults that cause the earthquakes felt today. He tells of colliding continents that pushed up mountains taller than the Rockies and of the tremendous impact of the Ice Age, which profoundly altered the landscape. He shows fossil coral and shells, evidence of the tropical seas that once covered the state.

Under Ohio offers a rich, interactive source of information for kids, parents, teachers, or anyone who would like to uncover facts about the state's geological features. Armed with a list of Ohio's best sites for rock and fossil hunting, junior geologists will want to set out on an adventure that can begin in their own backyards.
About the Author
Charles Ferguson Barker teaches geology at Wayne State University and is a geologist with an environmental consulting firm in Detroit. He has been drawing and painting since childhood and is the author and illustrator of Under Michigan and The Day the Great Lakes Drained Away.
Praise For Under Ohio: The Story of Ohio's Rocks and Fossils…
"Under Ohio will bring about a better understanding of how...the changes over time have created the diversity in the climate, soil, and landscape of Ohio."—Ohioana Quarterly
"Ohio University Press is crowing about its first book for young readers, but adults can learn plenty from Under Ohio: The Story of Ohio's Rocks and Fossils, a refreshing, noncondescending look at the prehistoric events that shaped our state."—Akron Beacon Journal