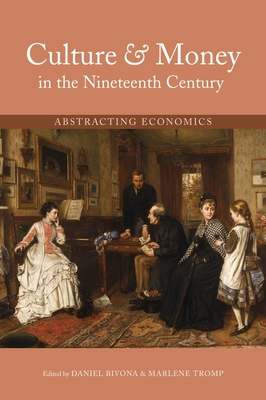 Culture and Money in the Nineteenth Century (Hardcover)
Abstracting Economics (Series in Victorian Studies)
Ohio University Press, 9780821421963, 240pp.
Publication Date: May 3, 2016
* Individual store prices may vary.
Description
Since the 1980s, scholars have made the case for examining nineteenth-century culture—particularly literary output—through the lens of economics. In Culture and Money in the Nineteenth Century: Abstracting Economics, two luminaries in the field of Victorian studies, Daniel Bivona and Marlene Tromp, have collected contributions from leading thinkers that push New Economic Criticism in new and exciting directions.
Spanning the Americas, India, England, and Scotland, this volume adopts an inclusive, global view of the cultural effects of economics and exchange. Contributors use the concept of abstraction to show how economic thought and concerns around money permeated all aspects of nineteenth-century culture, from the language of wills to arguments around the social purpose of art.
The characteristics of investment and speculation; the fraught symbolic and practical meanings of paper money to the Victorians; the shifting value of goods, services, and ideas; the evolving legal conceptualizations of artistic ownership—all of these, contributors argue, are essential to understanding nineteenth-century culture in Britain and beyond.
Contributors: Daniel Bivona, Suzanne Daly, Jennifer Hayward, Aeron Hunt, Roy Kreitner, Kathryn Pratt Russell, Cordelia Smith, and Marlene Tromp.
About the Author
Daniel Bivona is the author of Desire and Contradiction: Imperial Visions and Domestic Debates in Victorian Literature, British Imperial Literature, 1870 to 1940: Writing and the Administration of Empire, and (with Roger B. Henkle) The Imagination of Class: Masculinity and the Victorian Urban Poor. He teaches at Arizona State University.
Marlene Tromp is the author of Altered States: Sex, Nation, Drugs, and Self-Transformation in Victorian Spiritualism and The Private Rod: Marital Violence, Sensation, and the Law in Victorian Britain as well as an editor or contributor to other volumes. She is president of the North American Victorian Studies Association and teaches at Arizona State University.
Praise For Culture and Money in the Nineteenth Century: Abstracting Economics (Series in Victorian Studies)…
"Highlighting the centrality of economic thought to nineteenth-century culture, this intriguing volumeexpands our sense of what constituted the 'economic.' Its global reach and smart, wide-ranging essays make Culture and Money valuable reading."—Jill Rappoport, University of Kentucky
"Through original treatment of a wide range of topics, from art galleries to wills and from the textile industry to the representation of beggars, Culture and Money in the Nineteenth Century showcases the impressive breadth and scope of economic thinking in the period."—Lana L. Dalley, coeditor (with Jill Rappoport) of Economic Women: Essays on Desire and Dispossession in Nineteenth-Century British Culture
"These essays give some intriguing insights into … a fruitful, revealing and ever relevant field of interdisciplinary study."—The Times Literary Supplement
"This is an enormously useful book.…[It] offers us a valuable framework for thinking about the process of abstraction by which money and the economy became naturalized and universalized in the nineteenth century. And if its nature as an edited collection sometimes gives it a centrifugal feel, the historically-situated case studies that are the subject of the individual essays give us a sense of the nuances within which that process occurred. This is a book, in short, which poses more questions than it offers answers to, but that, I suspect, is very much what the editors wanted to achieve."—Jock Macleod, Australasian Review of Victorian Studies