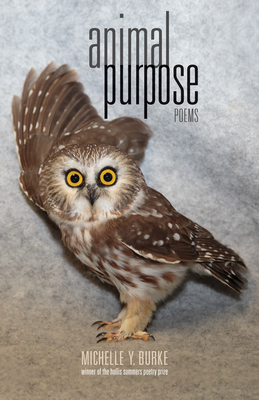 Animal Purpose (Paperback)
Poems (Hollis Summers Poetry Prize)
Ohio University Press, 9780821421987, 88pp.
Publication Date: March 8, 2016
* Individual store prices may vary.
Description
"Burke's tender and brave poems refuse to turn away from the cruelties of the world, both the kind we endure and the kind we unwittingly inflict—and yet, even as they bear witness, they insist on joy. And tilt towards hope. And pry beauty from unlikely places." —Lia Purpura
In Animal Purpose, Michelle Y. Burke explores the lives of men and women as they stand poised between the desire to love and the compulsion to harm. In one poem, a woman teaches a farmhand the proper way to slaughter a truckload of chickens. In another, a couple confronts the recent loss of a loved one when a stranger makes an unexpected confession in a crowded restaurant. Set in both rural and urban spaces, these poems challenge received ideas about work, gender, and place. Danger blurs into beauty and back again. Burke scours the hard edges of the world to find "fleeting softness," which she wishes "into the world like pollen that covers everything."
About the Author
Born in rural Pennsylvania, Michelle Y. Burke earned a BA in creative writing from Loyola University Maryland, an MFA in poetry from the Ohio State University, and a PhD in English from the University of Cincinnati. She is also the author of Horse Loquela, winner of the Red Mountain Review Chapbook Series Award. She lives in Brooklyn with her husband, the writer Douglas Watson, and their daughter.
Praise For Animal Purpose: Poems (Hollis Summers Poetry Prize)…
"Michelle Burke's lovely Animal Purpose delights when the human animal and the other animals align their often contrary spirits. Burke writes lyrically and searchingly about the purposes of us all—human and nonhuman animal—in this fine, fascinating, and constantly surprising book."
—Andrew Hudgins, author of American Rendering: New and Selected Poems, The Joker: A Memoir, and others
"Michelle Y. Burke has a splendid imagination, yet her poems are grounded in the quotidian. She knows how to pick, from the world, the just-right opposite of quotidian. Deeply satisfying turns happen throughout Burke's poems—they are never forced, and surprise never diminishes what is inevitable and true."
—Thomas Lux, author of Selected Poems 1982–2012 and To the Left of Time
"Elegant and emblematic as the beasts inhabiting Burke's Animal Purpose, these poems ask impossible questions of love, death, and the all too human constructs meant to manage both. What a painfully beautiful debut this is." —Kathy Fagan
"Burke's stunning first collection transforms the echoes of the pastoral tradition into complex contemporary terrain in a voice that is both subtle and urgent. Underlying these meditations is a wariness of easy philosophies about the relationship between humans and the rest of the natural world. There is abundance here, a specificity in her imagery and cadences that makes this book an engaging and emotionally potent exploration of environment and self." —Danielle Cadena Deulen
 
"[Burke] has an exceptional ability to translate a common animal into a vision or metaphor with restraint via dignified stanzas that credit the materialized world of creatures." — Grace Cavalieri, Washington Independent Review of Books