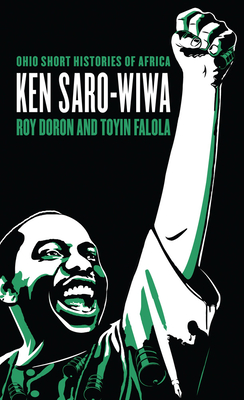 Ken Saro-Wiwa (Ohio Short Histories of Africa)
Paperback

* Individual store prices may vary.
Description
Hanged by the Nigerian government on November 10, 1995, Ken Saro-Wiwa became a martyr for the Ogoni people and human rights activists, and a symbol of modern Africans' struggle against military dictatorship, corporate power, and environmental exploitation. Though he is rightly known for his human rights and environmental activism, he wore many hats: writer, television producer, businessman, and civil servant, among others. While the book sheds light on his many legacies, it is above all about Saro-Wiwa the man, not just Saro-Wiwa the symbol.
Roy Doron and Toyin Falola portray a man who not only was formed by the complex forces of ethnicity, race, class, and politics in Nigeria, but who drove change in those same processes. Like others in the Ohio Short Histories of Africa series, Ken Saro-Wiwa is written to be accessible to the casual reader and student, yet indispensable to scholars.
Praise For Ken Saro-Wiwa (Ohio Short Histories of Africa)…
"In Ken Saro-Wiwa, Doron and Falola provide a masterful narrative of the struggles of Nigeria's famous environmental and ethnic minority rights campaigner and writer. This history of a complex personality that successfully seized the national and global stage in the 1990s, also brilliantly explores the unfinished ramifications of his untimely death."—Cyril Obi, Social Science Research Council

"A brilliant new biography by Roy Doron and Toyin Falola places Saro-Wiwa's activism into the broader context of his life, his experiences in public administration and the arts, and his persistent and nuanced view of the role that ethnicity and identity should play in post-colonial Nigeria. The book is an accessible and affordable read that speaks to anyone interested in Nigerian history and politics."—Washington Post online

"This short, highly enjoyable book provides a comprehensive perspective on this Renaissance man by situating him in the broader historical context of Nigeria's turbulent 20th century. A great introduction to Saro-Wiwa and his world for anyone with an interest in African studies, literary criticism, environmental history, or case studies in international or human rights law. Summing up: Highly recommended."—CHOICE

"This book is slim but powerful—which should be a great asset to Afri- canists and human-rights activists, who have made it their duty worldwide to document the inhumane treatment of writers and political activists like Ken Saro-Wiwa and his eight doomed colleagues."—Yvette M. Alex-Assensoh, Africa Today
Ohio University Press, 9780821422014, 176pp.
Publication Date: May 19, 2016
About the Author
Roy Doron is an assistant professor of history at Winston-Salem State University, where he examines the intersection of war, ethnicity and identity formation in post-colonial Africa, focusing on the Nigerian Civil War. His work has appeared in edited volumes, as well as the Journal of Genocide Research and African Economic History.
Toyin Falola is president of the African Studies Association and the Jacob and Frances Sanger Mossiker Chair in the Humanities at the University of Texas at Austin. He is the author of A History of Nigeria and many other books, and holds several honorary doctorates.