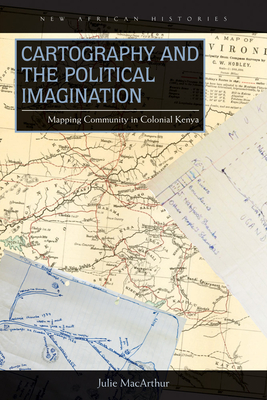 Cartography and the Political Imagination (Paperback)
Mapping Community in Colonial Kenya (New African Histories)
Ohio University Press, 9780821422106, 356pp.
Publication Date: June 30, 2016
Other Editions of This Title:
Hardcover (6/30/2016)
* Individual store prices may vary.
Description
After four decades of British rule in colonial Kenya, a previously unknown ethnic name — "Luyia" — appeared on the official census in 1948. The emergence of the Luyia represents a clear case of ethnic "invention." At the same time, current restrictive theories privileging ethnic homogeneity fail to explain this defiantly diverse ethnic project, which now comprises the second-largest ethnic group in Kenya.

In Cartography and the Political Imagination, which encompasses social history, geography, and political science, Julie MacArthur unpacks Luyia origins. In so doing, she calls for a shift to understanding geographic imagination and mapping not only as means of enforcing imperial power and constraining colonized populations, but as tools for articulating new political communities and dissent. Through cartography, Luyia ethnic patriots crafted an identity for themselves characterized by plurality, mobility, and cosmopolitan belonging.

While other historians have focused on the official maps of imperial surveyors, MacArthur scrutinizes the ways African communities adopted and adapted mapping strategies to their own ongoing creative projects. This book marks an important reassessment of current theories of ethnogenesis, investigates the geographic imaginations of African communities, and challenges contemporary readings of community and conflict in Africa.
About the Author
Julie MacArthur is an assistant professor at the University of Toronto. She is the author of Cartography and the Political Imagination as well as numerous articles. She has also worked extensively in African cinema, both as a curator and an academic.
Praise For Cartography and the Political Imagination: Mapping Community in Colonial Kenya (New African Histories)…
"MacArthur's exploration of the historiography of ethnicity in Kenya combines theoretical sophistication with innovative and deftly interdisciplinary methodological work, along with a knack for personalized storytelling. In Cartography and the Political Imagination, MacArthur has knit together a diverse and complex array of actors, plot lines, and forms of evidence (archival, cartographic, oral), resulting in a fascinating and important piece of historical scholarship."—Heidi Gengenbach, University of Massachusetts, Boston
"Three intertwined lines of argument are central to the study: 'imagined communities' constructed out of perceived concepts of ethnic, religious, linguistic, and genealogical links; the emergence of a particular form of ethnic patriotism consisting of the complex interplay of nativism and cosmopolitanism in African political thought; and how the mobilization of geographic identities rendered the development of 'cartographic political imaginations.' … Summing up: Recommended (upper-level undergraduates and above)."—CHOICE
"Cartography is really a fascinating and important study of how the Luyia successfully 'imagined' and then created a single ethnic constituency ... Cartography draws on the already rich literature on ethnogenesis … and takes it further in a case study that challenges much of the conventional wisdom about how ethnic identities are made."—African Studies Review
"The Luyia defy assumptions about African ethnicity. With neither myth of common descent nor shared vernacular speech, this modern community is yet no colonial invention. These least 'tribal' of Kenya's peoples mapped their own territory of civic pluralism. In this new departure in ethnic studies, Julie MacArthur persuasively subverts our conventional wisdom."—John Lonsdale, University of Cambridge
"Cartography and Political Imagination breaks new ground in Kenyan historiography with its focus on western Kenya. This detailed and sophisticated study argues that Luyia ethnic architects used cartography to create a demographically inclusive, politically pluralistic, and progressive cosmopolitan community. It is refreshing to read a book on Kenya that does not focus on Mau Mau or the Kikuyu. MacArthur's exemplary study of a regional history will be indispensable to scholars of ethnogenesis and cartography in Africa and elsewhere."—Kenda Mutongi, Williams College