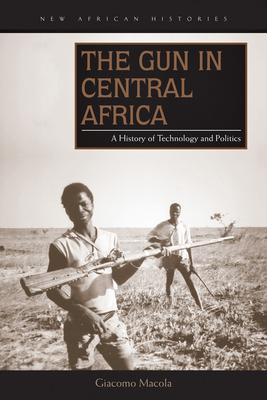 The Gun in Central Africa
A History of Technology and Politics (New African Histories)
Paperback

* Individual store prices may vary.
Other Editions of This Title:
Hardcover (4/25/2016)
Description
Why did some central African peoples embrace gun technology in the nineteenth century, and others turn their backs on it? In answering this question, The Gun in Central Africa offers a thorough reassessment of the history of firearms in central Africa. Marrying the insights of Africanist historiography with those of consumption and science and technology studies, Giacomo Macola approaches the subject from a culturally sensitive perspective that encompasses both the practical and the symbolic attributes of firearms.
Informed by the view that the power of objects extends beyond their immediate service functions, The Gun in Central Africa presents Africans as agents of technological re-innovation who understood guns in terms of their changing social structures and political interests. By placing firearms at the heart of the analysis, this volume casts new light on processes of state formation and military revolution in the era of the long-distance trade, the workings of central African gender identities and honor cultures, and the politics of the colonial encounter.
Praise For The Gun in Central Africa: A History of Technology and Politics (New African Histories)…
"Giacomo Macola makes a serious contribution to our understanding of nineteenth-century African history, and specifically to the history of warfare and military organization in Africa. Few scholars have positioned firearms at the centre of their work in quite this manner, making this an innovative and distinctive intervention."—Richard Reid, professor of African history, SOAS
"In tracking the history of guns in late precolonial and early colonial history, Macola deftly draws on concepts from science, technology, and society (STS), consumption, and material-culture studies, placing African history in conversation with those fields…In his final chapter, [he] connects his story to recent histories of violence, intercontinental trade, and armament in central Africa, demonstrating anew that precolonial African history is both accessible in, and essential to, understanding contemporary Africa."—Journal of Interdisciplinary History
"…Provides a fascinating perspective on the evolution of societies, trade, ethnic rivalries, and war in the decades leading up to the European scramble for the continent… Macola's broader purpose is to place the study of precolonial Africa back on the scholarly agenda and show how it remains relevant today. The conclusion of his fine book suggests a link between the adoption of firearms in central Africa a century and a half ago and the motivations and actions of the young men in today's eastern Congo who join militias and spread insecurity and violence."—Foreign Affairs
"The Gun in Central Africa … is a methodological triumph … Macola's command of language and local histories opens a new window on not just the Scramble for Africa but also the motivations of today's militias in eastern Congo."—Joanna Lewis, assistant professor in the department of international history, London School of Economics
"Macola's book, with its focus on the symbolic and social value of firearms, tells us something new and original about Africa's history and in particular about the different ways in which African societies actively incorporated the exogenous flow of technology brought by international trade. At the same time, it is undoubtedly a valuable book for scholars who wish to understand better the present dynamics of warfare in central Africa."—Journal of Southern African Studies
Ohio University Press, 9780821422120, 266pp.
Publication Date: April 25, 2016
About the Author
Giacomo Macola is associate professor in African history at Sapienza Università di Roma and research fellow in the Centre for Africa Studies of the University of the Free State. The author of Liberal Nationalism in Central Africa: A Biography of Harry Mwaanga Nkumbula, he has also coedited (with Derek Peterson) Recasting the Past: History Writing and Political Work in Modern Africa.
or
Not Currently Available for Direct Purchase