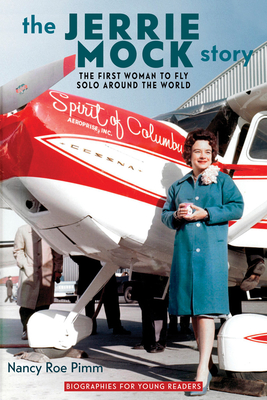 The Jerrie Mock Story (Hardcover)
The First Woman to Fly Solo around the World (Biographies for Young Readers)
Ohio University Press, 9780821422151, 152pp.
Publication Date: March 15, 2016
* Individual store prices may vary.
Description
In this biography for middle-grade readers, Nancy Roe Pimm tells the story of Geraldine "Jerrie" Mock, the first woman to fly solo around the world. In her trusty Cessna, The Spirit of Columbus — also known as Charlie — she traveled from Columbus, Ohio, on an eastward route that totaled nearly twenty-three thousand miles and took almost a month. Overcoming wind, ice, mechanical problems, and maybe even sabotage, Mock persevered.

Mock caught the aviation bug at seven years old, when she rode in a Ford Trimotor plane with her parents. In high school, she displayed a talent for math and science, and she was the only woman in her aeronautical engineering classes at Ohio State University. Although she then settled into domestic life, she never lost her interest in flying. What began as a joking suggestion from her husband to fly around the world prompted her to pursue her childhood dream. But the dream became a race, as another woman, Joan Merriam Smith, also sought to be the first to circle the globe.

Even though Mock beat Smith and accomplished what her heroine Amelia Earhart had died trying to do, her feat was overshadowed by the Vietnam War and other world events. Now, Pimm introduces Mock to a new generation of adventurers.
About the Author
Nancy Roe Pimm is the author of several award-winning books for young readers. A native of Brooklyn, New York, with three daughters and two grandsons, she lives in Plain City, Ohio, with her retired race-car driver husband, their two dogs, two cats, and a python named Monty.
Praise For The Jerrie Mock Story: The First Woman to Fly Solo around the World (Biographies for Young Readers)…
"This is a high-interest biography of a woman who is less of a household name than her idol, Amelia Earhart, but no less gutsy and accomplished."—Booklist
"Plentifully illustrated with photographs and copies of her passport and flight documents, this is an interesting snap shot of an accomplishment about which not enough people know."—Ms. Yingling Reads
"This often hair-raising tale not only rescues a major aeronautical feat from near-total obscurity, but presents an eye-opening picture of another era's gender roles and expectations."—Kirkus Reviews
"Nancy Roe Pimm has captured Jerrie's essence and her voice. She shows my sister's passion for flying and for life. I'm thrilled to know her story will be shared with future generations, so they too will believe in their dreams as they get to know Jerrie, a true American hero."—Susan Reid, Jerrie Mock's younger sister
"Nancy Roe Pimm's book makes me feel as though I am visiting with Jerrie again—every detail is there, just as Jerrie shared it with me. Jerrie was a gracious and competent American woman and an unexpected hero who gave closure to Amelia Earhart's quest. The personal story of our last tie to the golden age of aviation is beautifully presented."—Jill Nelson, retired U.S. Navy pilot and friend of Jerrie Mock