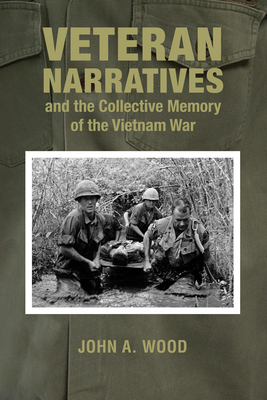 Veteran Narratives and the Collective Memory of the Vietnam War (War and Society in North America) (Paperback)
Ohio University Press, 9780821422236, 200pp.
Publication Date: April 25, 2016
Other Editions of This Title:
Hardcover (4/25/2016)
* Individual store prices may vary.
Description
In the decades since the Vietnam War, veteran memoirs have influenced Americans' understanding of the conflict. Yet few historians or literary scholars have scrutinized how the genre has shaped the nation's collective memory of the war and its aftermath. Instead, veterans' accounts are mined for colorful quotes and then dropped from public discourse; are accepted as factual sources with little attention to how memory, no matter how authentic, can diverge from events; or are not contextualized in terms of the race, gender, or class of the narrators.

Veteran Narratives and the Collective Memory of the Vietnam War is a landmark study of the cultural heritage of the war in Vietnam as presented through the experience of its American participants. Crossing disciplinary borders in ways rarely attempted by historians, John A. Wood unearths truths embedded in the memoirists' treatments of combat, the Vietnamese people, race relations in the United States military, male-female relationships in the war zone, and veterans' postwar troubles. He also examines the publishing industry's influence on collective memory, discussing, for example, the tendency of publishers and reviewers to privilege memoirs critical of the war. Veteran Narratives is a significant and original addition to the literature on Vietnam veterans and the conflict as a whole.
About the Author
John Wood earned a PhD in history from Temple University and lives in Westport, Massachusetts.
Praise For Veteran Narratives and the Collective Memory of the Vietnam War (War and Society in North America)…
"One reason that the Vietnam veteran has become the moral vector of the war is the perception that they were often ignored, abused, hated and marginalized by the US establishment and anti-war activists. Wood places this within a longer narrative of US homecomings and, while recognizing the damaging legacies of the war, questions the apparent uniqueness of the difficulties that Vietnam veterans faced returning to civilian life.…This important study is not a disinterested reflection on how the most prominent memoirs are expressions of raced, classed and gendered subjects rather than 'the truth' of Vietnam. Wood does not suggest that these narratives have nothing to tell us about war. That story is darker than the most bleak memoirs."—History Today
"This wonderfully conceived book belongs in every library. …This nicely written book should be available to all, and especially to scholars and discerning public intellectuals. Summing up: Highly recommended."—CHOICE—Jerry Lembcke, College of the Holy Cross
"Veteran Narratives and the Collective Memory of the Vietnam War is a discerning investigation of historical remembrance in the writings of Vietnam War veterans. John Wood deftly reveals how prewar, wartime, and postwar experiences shaped the composition and content of published memoirs. In the process, he reminds us that even biased and flawed veteran accounts—used appropriately—offer valuable insights into the nature of warfare and the ways that societies choose to remember it."—Michael R. Dolski, Michigan War Studies Review
"John Wood's venture into collective memory provides Americans with painful insight into how Vietnam veterans perceived the conflict, and also how those of us who did not go to fight perceived them. This book is a considerable historical achievement. More importantly, it can help us 'get right' with the war, our warriors and ourselves. Please read it."—Stanley N. Katz, director, Princeton University Center for Arts and Cultural Policy Studies
"To my knowledge, this is the first significant scholarly work to look at veterans' memoirs as literature and how they shape the public memory and perception of the Vietnam War. Wood succeeds wonderfully."—Heather Marie Stur, author of Beyond Combat: Women and Gender in the Vietnam War Era