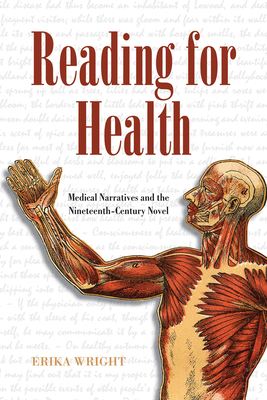 Reading for Health
Medical Narratives and the Nineteenth-Century Novel (Series in Victorian Studies)
Hardcover

* Individual store prices may vary.
Description
In Reading for Health: Medical Narratives and the Nineteenth-Century Novel, Erika Wright argues that the emphasis in Victorian Studies on disease as the primary source of narrative conflict that must be resolved has obscured the complex reading practices that emerge around the concept of health. By shifting attention to the ways that prevention of illness and the preservation of well-being operate in fiction, both thematically and structurally, Wright offers a new approach to reading character and voice, order and temporality, setting and metaphor. As Wright reveals, while canonical works by Austen, Brontë, Dickens, Martineau, and Gaskell register the pervasiveness of a conventional "therapeutic" form of action and mode of reading, they demonstrate as well an equally powerful investment in the achievement and maintenance of "health"—what Wright refers to as a "hygienic" narrative—both in personal and domestic conduct and in social interaction of the individual within the community.
Praise For Reading for Health: Medical Narratives and the Nineteenth-Century Novel (Series in Victorian Studies)…
"In Erika Wright's concise, incisive Reading for Health: Medical Narratives and the Nineteenth-Century Novel, she reverses a formative assumption: instead of reading for illness, she focuses on well-being. She recovers narratives of prevention instead of therapeutic narratives, and those health-based stories have a different form; instead of a pattern of diagnosis/crisis/cure, narratives of health are stories of steady-state maintenance."—Victorian Studies

"Offering a largely overlooked perspective, Wright adds to growing body of scholarship in the medical humanities by considering what she terms 'hygienic' Victorian novels. She argues that in contrast to the familiar therapeutic narrative arc of 'prelude, crisis, and cure,' hygienic narratives are premised on maintenance and prevention. …Wright's volume not only represents an important contribution to scholarship on the Victorian novel, medical humanities, and narrative theory but also demonstrates the value of literature in helping improve medical education and communication. Summing Up: Highly recommended."—CHOICE

"A fascinating and timely contribution to discussions concerning the interrelation of medicine and fiction."—Heather Tilley, English Studies

"In its original uncovering of hygienic narrative strategies in the nineteenth century, Reading for Health proves to be an important contribution to interdisciplinary nineteenth-century studies scholarship with an interest in literature and medicine."—Lorenzo Servitje, Victoriographies

"Wright breaks new ground in Reading for Health. The act of focusing on health within a genre which prioritizes the narrative arc wrought by disease is itself a new way of looking. Her book is of interest not only to scholars of canonical nineteenth-century English literature, but also to instructors of narrative medicine and to medical professionals and medical professionals in training, who may use the book as an aid in bringing empathy into their practice."—Australasian Journal of Victorian Studies
Ohio University Press, 9780821422243, 240pp.
Publication Date: March 15, 2016
About the Author
Erika Wright is a clinical instructor of family medicine at the Keck School of Medicine, University of Southern California. Her articles have appeared in such journals as Studies in the Novel and the Midwest Modern Language Association Journal.