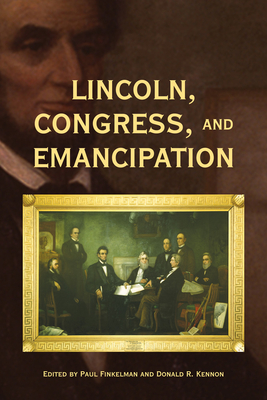 Lincoln, Congress, and Emancipation (Perspective Hist of Congress 1801-1877) (Paperback)
Ohio University Press, 9780821422281, 276pp.
Publication Date: December 15, 2016
Other Editions of This Title:
Hardcover (12/15/2016)
* Individual store prices may vary.
Description
"When Lincoln took office, in March 1861, the national government had no power to touch slavery in the states where it existed. Lincoln understood this, and said as much in his first inaugural address, noting: 'I have no purpose, directly or indirectly, to interfere with the institution of slavery in the States where it exists.'" How, then, asks Paul Finkelman in the introduction to Lincoln, Congress, and Emancipation, did Lincoln—who personally hated slavery—lead the nation through the Civil War to January 1865, when Congress passed the constitutional amendment that ended slavery outright?

The essays in this book examine the route Lincoln took to achieve emancipation and how it is remembered both in the United States and abroad. The ten contributors—all on the cutting edge of contemporary scholarship on Lincoln and the Civil War—push our understanding of this watershed moment in US history in new directions. They present wide-ranging contributions to Lincoln studies, including a parsing of the sixteenth president's career in Congress in the 1840s and a brilliant critique of the historical choices made by Steven Spielberg and writer Tony Kushner in the movie Lincoln, about the passage of the Thirteenth Amendment.

As a whole, these classroom-ready readings provide fresh and essential perspectives on Lincoln's deft navigation of constitutional and political circumstances to move emancipation forward.

Contributors: L. Diane Barnes, Jenny Bourne, Michael Burlingame, Orville Vernon Burton, Seymour Drescher, Paul Finkelman, Amy S. Greenberg, James Oakes, Beverly Wilson Palmer, Matthew Pinsker
About the Author
Paul Finkelman is an expert on constitutional history, the law of slavery, and the American Civil War. He coedits the Ohio University Press series New Approaches to Midwestern Studies and is the president of Gratz College.
Donald R. Kennon is the former chief historian and vice president of the United States Capitol Historical Society. He is editor of the Ohio University Press series Perspectives on the History of Congress, 1789–1801.
Praise For Lincoln, Congress, and Emancipation (Perspective Hist of Congress 1801-1877)…
"Take ten talented historians of the Civil War era, lock them in a room, and let none of them out until they have said the most enlightening things ever uttered about Abraham Lincoln and emancipation, and the result would be close to what we have in this book. From the perspectives of political, demographic, and legal studies, these essays describe the essential factors in the Lincoln equation that destroyed that great blot on freedom's escutcheon—human slavery."—Allen C. Guelzo, author of Fateful Lightning: A New History of the Civil War and Reconstruction
"This fine collection of essays sets Abraham Lincoln's emancipation policies firmly and correctly within the larger contexts of global emancipation movements, the nation's socio-cultural environment, and the intricate currents of the nation's political and constitutional system. A must-read for any serious student of Lincoln's career or the Civil War era."—Brian Dirck, author of Abraham Lincoln and White America
"The uniformly high quality of the contributions and the range of issues covered render this work particularly suitable for course assignment. There is enough variety of perspective and topics to provide fodder for open-ended discussions while still