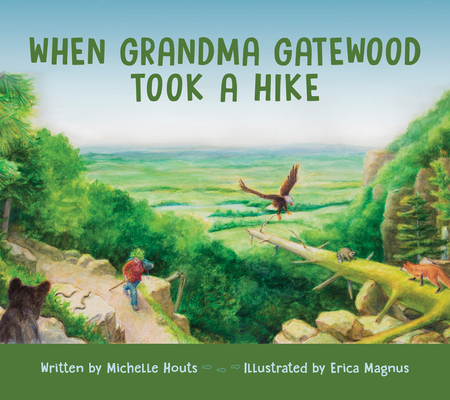 When Grandma Gatewood Took a Hike
Hardcover

* Individual store prices may vary.
Description
It took her two tries, but in 1955, sixty-seven-year-old Emma "Grandma" Gatewood became the first woman to solo hike the entire length of the Appalachian Trail in one thru-hike. Gatewood, who left an abusive marriage after raising eleven children, has become a legend for those who hike the trail, and in her home state of Ohio, where she helped found the Buckeye Trail. In recent years, she has been the subject of a bestselling biography and a documentary film.
In When Grandma Gatewood Took a Hike, Michelle Houts brings us the first children's book about her feat, which she accomplished without professional gear or even a tent. Houts chronicles the spirit of a seasoned outdoorswoman and mother of eleven whose grit and determination helped her to hike over two thousand miles. Erica Magnus's vibrant illustrations capture the wild animals, people from all walks of life, and unexpected challenges that this strong-willed woman encountered on the journey she initially called a "lark."
Children ages 4–10 will delight in this narrative nonfiction work as they accompany Emma Gatewood on the adventure of a lifetime and witness her transformation from grandmother to hiking legend, becoming "Grandma" to all.
Praise For When Grandma Gatewood Took a Hike…
"[Children] will certainly admire the can-do message of Grandma Gatewood's story, her up-close encounters with adventures in the wild, including snakes, black flies, and bobcats, and her refusal to be stopped by a few setbacks."—WVXU

"This compelling true tale of triumph will send kids scrambling for their sneakers so they can follow in the footsteps of a legend."—Ben Montgomery, author of Grandma Gatewood's Walk: The Inspiring Story of the Woman Who Saved the Appalachian Trail

"[When Grandma Gatewood Took a Hike] is an inspiring story, imparting the notion that an action as basic as walking for pleasure could result in a feat for the record books."—Booklist

"This tale of grit and determination is recommended for libraries in the Appalachian region."—School Library Journal

"Really, overall, well done … it'd work particularly well in the classroom."—Literary Hoots
Ohio University Press, 9780821422359, 32pp.
Publication Date: September 15, 2016
About the Author
Michelle Houts holds degrees in special education and speech-language pathology. She is the author of several fiction and nonfiction books for young readers, including the award-winning The Beef Princess of Practical County,The Practical County Drama Queen, and Winterfrost.
Erica Magnus has enjoyed applying her fine art skills as a freelance artist to children's books as author and illustrator, for film and television as concept and creature design artist, and as a teacher. Happily back in Athens County, Ohio, where she raised her daughters, she now works from her Amesville studio. Meadows and woodlands surround her tiny home, where she lives with her first and deepest love, nature.