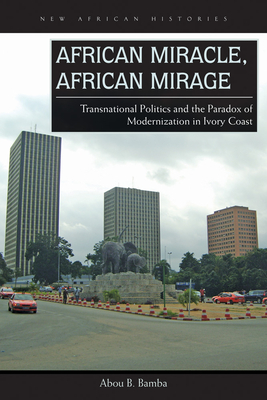 African Miracle, African Mirage
Transnational Politics and the Paradox of Modernization in Ivory Coast (New African Histories)
Paperback

* Individual store prices may vary.
Other Editions of This Title:
Hardcover (11/15/2016)
Description
Throughout the 1960s and 1970s, Ivory Coast was touted as an African miracle, a poster child for modernization and the ways that Western aid and multinational corporations would develop the continent. At the same time, Marxist scholars—most notably Samir Amin—described the capitalist activity in Ivory Coast as empty, unsustainable, and incapable of bringing real change to the lives of ordinary people. To some extent, Amin's criticisms were validated when, in the 1980s, the Ivorian economy collapsed.
In African Miracle, African Mirage, Abou B. Bamba incorporates economics, political science, and history to craft a bold, transnational study of the development practices and intersecting colonial cultures that continue to shape Ivory Coast today. He considers French, American, and Ivorian development discourses in examining the roles of hydroelectric projects and the sugar, coffee, and cocoa industries in the country's boom and bust. In so doing, he brings the agency of Ivorians themselves to the fore in a way not often seen in histories of development. Ultimately, he concludes that the "maldevelopment" evident by the mid-1970s had less to do with the Ivory Coast's "insufficiently modern" citizens than with the conflicting missions of French and American interests within the context of an ever-globalizing world.
Praise For African Miracle, African Mirage: Transnational Politics and the Paradox of Modernization in Ivory Coast (New African Histories)…
"Abou Bamba shows that rather than accepting a subordinate economic relationship to France, leaders of the Côte d'Ivoire sought to play foreign powers and investors off against each other. Looking in detail at development projects, he makes an important and revealing contribution to the growing field of development history."—Frederick Cooper, author of Africa in the World: Capitalism, Empire, Nation-State

"What is innovative in the book's point of view … is its emphasis on the penetration, in the postwar years, of American ideas and development processes, creating a competitor with France for the control of the country."—Journal of European Economic History

"Drawing on historical documents and oral histories in Ivory Coast, France, and the United States, Bamba's book challenges conventional understandings of development in postcolonial Francophone Africa."—Kim Y Dionne, Washington Post online

"This book is a worthy contribution to the growing literature on development policies in the 1960s and 1970s. For specialists outside of Africa engaged with development … African Miracle, African Mirage deserves attention as a way of making comparisons. … this could be an effective textbook in graduate courses on postcolonial African history and the history of development."—Canadian Journal of History

"A significant contribution to the study of the relations between the United States and African Francophone countries.…Bamba's conclusion eloquently casts a different spotlight on the causes of the rapid economic success of Ivory Coast. He offers new insights into the 'miracle' that was previously always attributed to the wise strategy of Houphouët-Boigny…A noteworthy contribution to literature on Ivory Coast."—African Studies Review
Ohio University Press, 9780821422397, 320pp.
Publication Date: November 15, 2016
About the Author
Abou B. Bamba is an associate professor of history and Africana studies at Gettysburg College.