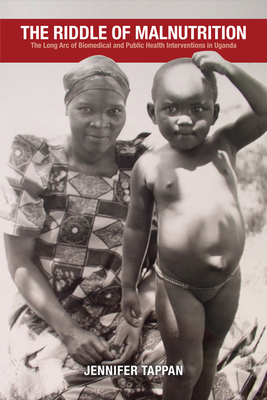 The Riddle of Malnutrition (Paperback)
The Long Arc of Biomedical and Public Health Interventions in Uganda (Perspectives on Global Health)
Ohio University Press, 9780821422465, 238pp.
Publication Date: June 19, 2017
Other Editions of This Title:
Hardcover (6/19/2017)
* Individual store prices may vary.
Description
More than ten million children suffer from severe acute malnutrition globally each year. In Uganda, longstanding efforts to understand, treat, and then prevent the condition initially served to medicalize it, in the eyes of both biomedical personnel and Ugandans who brought their children to the hospital for treatment and care. Medicalization meant malnutrition came to be seen as a disease—as a medical emergency—not a preventable condition, further compromising nutritional health in Uganda.
Rather than rely on a foreign-led model, physicians in Uganda responded to this failure by developing a novel public health program known as Mwanamugimu. The new approach prioritized local expertise and empowering Ugandan women, blending biomedical knowledge with African sensibilities and cultural competencies.
In The Riddle of Malnutrition, Jennifer Tappan examines how over the course of half a century Mwanamugimu tackled the most fatal form of childhood malnutrition—kwashiorkor—and promoted nutritional health in the midst of postcolonial violence, political upheaval, and neoliberal resource constraints. She draws on a diverse array of sources to illuminate the interplay between colonialism, the production of scientific knowledge, and the delivery of health services in contemporary Africa.
About the Author
Jennifer Tappan is an associate professor of African history at Portland State University. Her research focuses on the history of medicine and health in Africa, and her work has appeared in the International Journal of African Historical Studies and the edited volume Global Health in Africa: Historical Perspectives on Disease Control.
Praise For The Riddle of Malnutrition: The Long Arc of Biomedical and Public Health Interventions in Uganda (Perspectives on Global Health)…
"Tappan's rich study explores how complex health issues in Africa and other regions of the global south have been falsely constructed as problems that can be easily addressed through the application of externally derived biomedical technologies. A must read for public health scholars and practitioners."—Randall M. Packard, author of A History of Global Health: Interventions into the Lives of Other Peoples
"Largely biomedical in orientation and located in the Global North, groups such as the World Heath Organization (WHO), the United Nations Children's Fund (UNICEF), various nongovernmental organizations (NGOs), and university research centers seek to remedy the health of the Global South through technological fixes with one-size-fits-all protocols. Tappan's research … challenges the assumptions of global health on a number of fronts and shows the cost to public health when little regard is given to local culture, history, or autonomy…. Tappan's work makes significant interventions to the emerging field of African historical epidemiology."—American Historical Review
"This is a thoughtful and well-researched book on a subject that has remained outside the global health bubble. It tells the important story of capacity and local initiative, as Ugandan doctors, scientists and community health workers struggled to sustain primary health care against unbelievable odds."—Social History of Medicine
"We try not to pick favorites in the African Politics Summer Reading Spectacular, but I've failed this year with this week's book…Why was it my favorite? I've learned a lot and enjoyed reading all of the books in this summer's series. But Tappan's excellent and deeply researched book reads almost like a novel: At the end of each chapter, I needed to keep going to learn what happened next.…This book could change the way you think about health interventions."—Kim Yi Dionne, Washington Post online
"An incisive and sensitive portrayal of the real implications of the uneven generation of knowledge in East Africa. Tappan locates the history of nutrition not only in a succession of hypotheses tested on the bodies of Ugandan children, but in later community demonstration meals and in the willingness of researchers to recognize and reflect on the unintended consequences of their actions."—Holly Hanson, author of Landed Obligation: The Practice of Power in Buganda
or
Not Currently Available for Direct Purchase